Repowering Smart Outdoor
s
, 20x Saving iGarden Solution
The development of global IoT life enters the next generation.
The long-awaited Matter 1.0 standard, supported by hundreds of IoT companies including Amazon, Apple, and Google, was recently announced. It is expected to bring to market more interoperable smart home products across brands and platforms.
Compared with the indoor smart home solutions that leap forward, outdoor intelligent innovations are more desirable than ever. And the popularity of staycations is fueling the growth of private pools and gardens. People fantasize about a perfect resort just outside their door, but their dreams of upgrading smart-saving equipment remain unfulfilled.
To satisfy the desire for the 4-season home resort, Fairland strived for a new breakthrough this year, which is 20x Saving iGarden.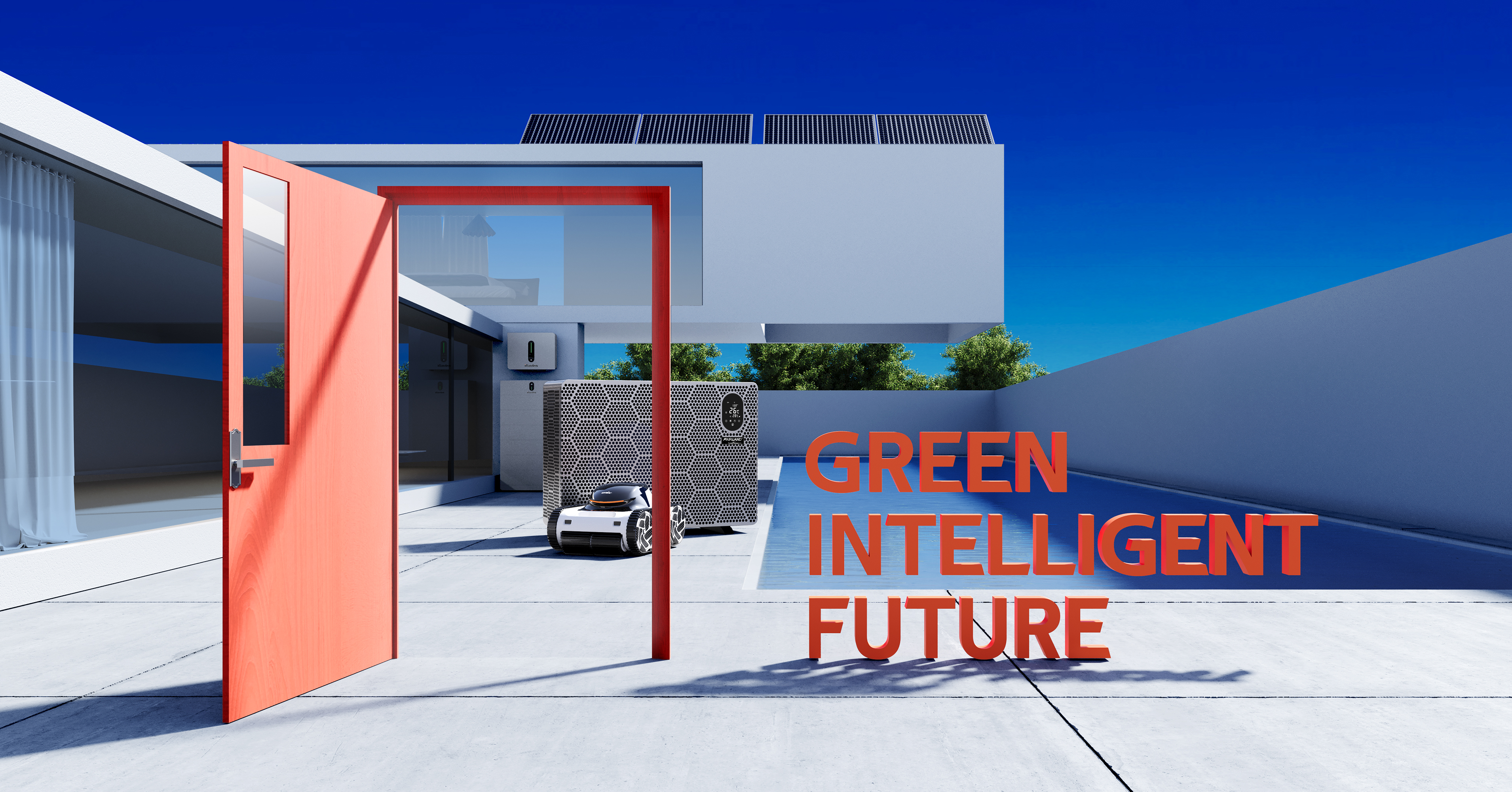 Minimize
Energy Cost, Maximum Outdoor Fun
The INVERX20 TurboSilence Full-inverter pool heat pump is the star of the show. It achieves COP up to 20 through optimal algorithms of the most recent inverter control system, 1kW power input = 20kW heat output in return (certified by TÜV Rheinland), which is refining the standard of the pool heat pump industry.
Employing the TurboSilence Full-inverter technology which is optimized based on Fairland's original Full-inverter technology, it perfectly balances inverter-compressor control and heat exchange efficiency, bringing Turbo performance and Silence operation with inverter compressor heat pump.
Besides the exclusive TurboSilence Full-inverter technology, the 20x eco plus swimming pool heat pump saving pool heat pump had applied 3D Spiral Titanium Heat Exchange Technology, which brings higher heat exchange effectiveness.
Compared with traditional On/Off pool heat pumps, INVERX20 saves about 60% of energy per year. This is undoubtedly an energy liberation for families.
Moreover, the newest generation X-WARRIOR, wireless pool cleaner is grouped into the 20x Saving iGarden solution. The real AI-Wireless technology frees your hands and brings you a better pool cleaning experience. The original Full-inverter technology allows the robot to achieve 10 hours of ultra-long service.
With a patented intelligent "3D S" cleaning path, X-WARRIOR detects the pool environment intelligently to fully cover the pool, saving you 60% of cleaning time. With only one click, you can enjoy your free lifestyle anytime. X-WARRIOR - your private pool WARRIOR.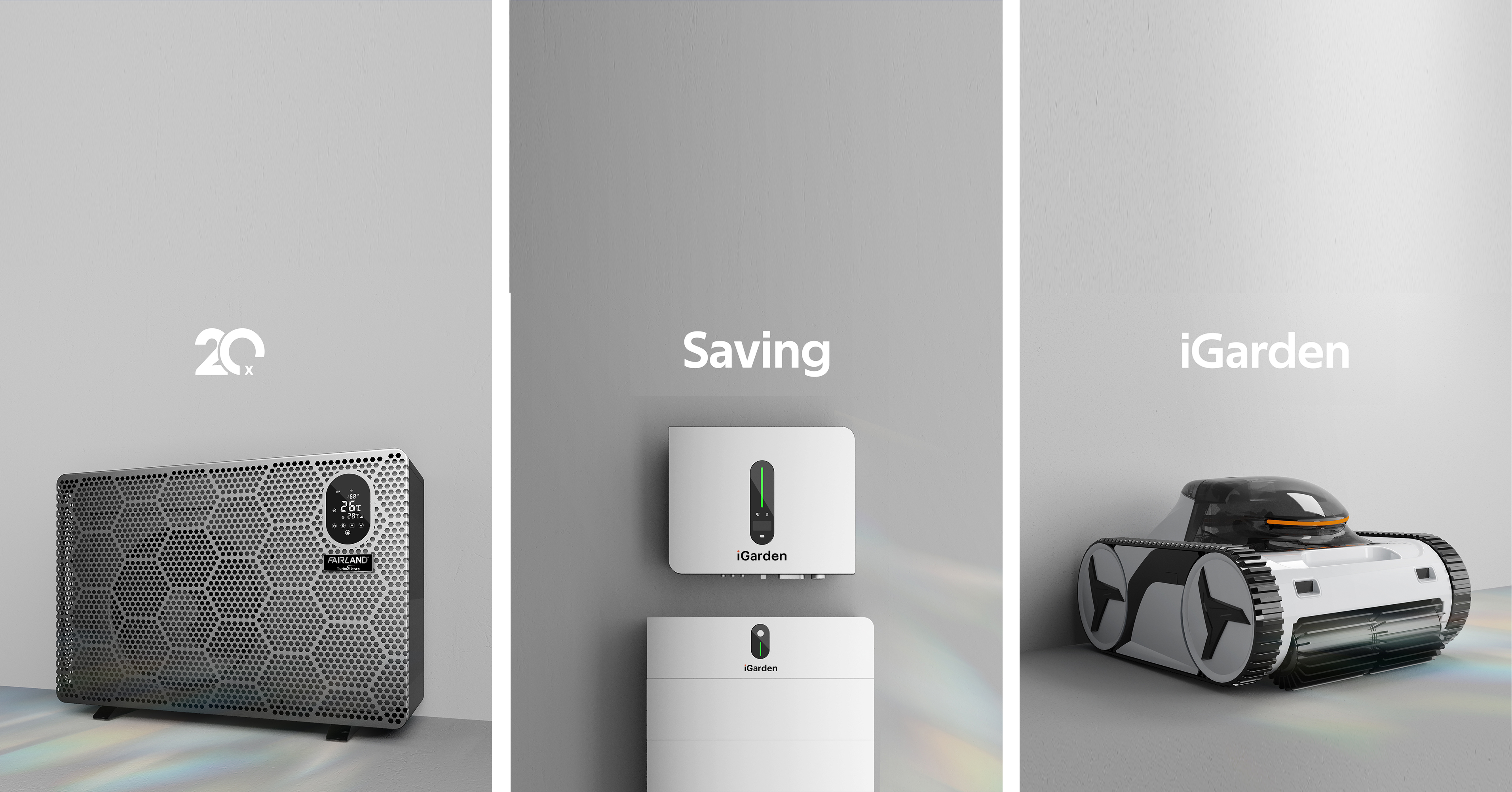 Recharging Smart Outdoor
s,
The Energy-Free iGarden
According to the European Solar Rooftops Initiative, the EU will make the installation of rooftop solar energy compulsory for all new residential buildings by 2029.
Fairland's 20x Saving iGarden first proposes an integrated green solution of interconnected outdoor devices to help users cope with fluctuations in the energy market. Fairland iGardenTM Solar Energy Storage System, the first Free Energy Outdoor Solution, offers comprehensive support for energy storage, usage, and efficiency. It intelligently distributes power, enabling renewable energy self-consumption with a single click.
On the one hand, Fairland TurboSilence Full-inverter technology helps with the 20x energy saving of backyard loads, while the solar energy storage system provides users with an independent power station. The investment return cycle of a perfect free-energy garden life is drastically reduced.
The 20x Saving iGarden solution not only provides a fully integrated smart experience for new home gardens, but it also seamlessly upgrades existing gardens. The expected intelligent outdoor life will come true, from 20x energy savings to Free Energy Sunshine Life.
Fairland will unveil all 20x Saving iGarden solutions at Booth 5E68 PISCINE GLOBAL EUROPE 2022 in Lyon, France from November 15 to 18.
Click to get your free badge now:
https://pass.piscine-global-europe.com/en/visitor.htm/?Deconnect=Y&codePromo=ELENC
*Calculate based on:
Area: Paris, France (Annual ave. temp: 13℃), Pool Volume: 27.3m³, Daily Heating Period: 7 am- 10 pm; Fairland's IXP46 inverter pool pump at 50% running capacity to maintain target pool temp of 28℃