The year 2019 was a year of fun and growth for Fairland. We made it as beautiful and brilliant as never before. It was marked by innovation and several new milestones that brought us a little closer to our mission "One Swimming Pool One Inverter".
When looking back over 2019, we would like to take this time to thank all the fantastic business partners who worked with Fairland. Our bond with you is important to us. Achievement would simply not be possible without your engaging in and supporting!
Now join us to look back at some of the key moments that defined us in pool industry in 2019:
Spotlight 1: Fairland Full-inverter HPs Debut in South America, New Opportunity Awaits
It was the first year that Fairland has set foot on South America, which is also the first time that we introduced Fairland Full-inverter pool heat pumps to South American customers. We have met many professional friends at Expolazer 2019 in Brazil this August. Many of them were very interested in Fairland Original Full-inverter technology. Thanks for their sharing, we have gained plenty of good ideas about the products, and some positive feedback about market demand.

Fairland Full-inverter HPs Debut at Expolazer 2019 in Brazil

Spotlight 2: Patented Inver-X Series with TurboSilence Tech Became Trending Topic throughout Industry
Speaking of innovation, we are proud to present the new lineup of Inver-X series pool heat pump powered by TurboSilence technology this year. It successfully became trending topic in the entire pool industry, ever since its world debut at Piscina & Wellness Barcelona 2019.
As the perfect combination of efficiency and heating power, Inver-X series pool heat pump is able to instantly increase heating capacity by 20% but run silently. 99.9% of new and old customers have many positive feedback on Inver-X series, they all heaped praise upon the product performance. Even if the shows have ended for quite a while, there is a steady stream of interested customers inquiring Inver-X series. This not only thrills us, but also strengthens our firm belief in technology innovation.

Fairland Inver-X series debut at Piscina & Wellness Barcelona 2019 & Aquanale 2019

Spotlight 3: Eye-catching Glasses-free 3D Tech on Inver-X Showcase Won High Praise
In particularly the glasses-free 3D technology we applied to the demonstration of Inver-X series, it surprised many visitors on the spot both at Barcelona show and Aquanale show.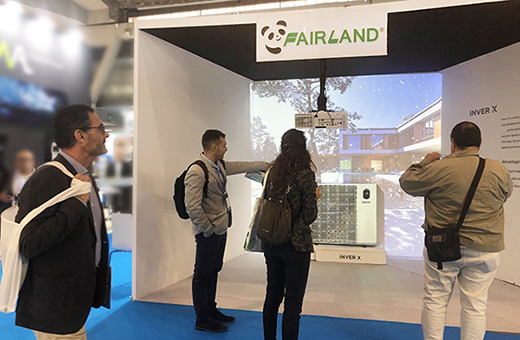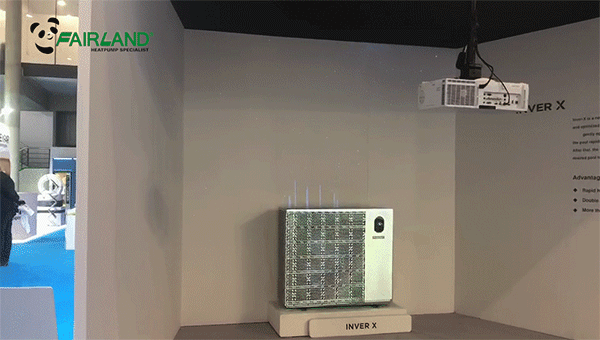 Fairland Inver-X showcase at Piscina & Wellness Barcelona 2019

It is ranking No.3 in the TOP 20 list of Piscina & Wellness Barcelona 2019 selected by official Spanish media partner! Thank you so much for the recognition!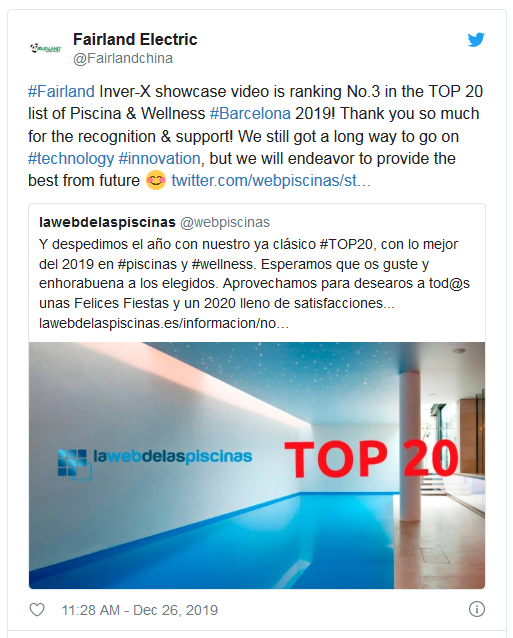 This is our first attempt to present a new product in a way of more intuitive visual effects. We are cheerful to be recognized by the industry media. Bold in innovation and dare to break new is always the driving force of Fairland. Let us look forward to Lyon show next year. We will bring you more new products and surprises!
As the New Year 2020 approaches, we welcome the 20th Anniversary of Fairland with hopes anew. The whole Fairland team can't wait to share the joy with everyone! Coming up, there will more updates about the anniversary event, stay connected with us on
LinkedIn
,
Facebook
,
Twitter
and
Instagram
today.