Comparing with electric pool heaters, pool heat pumps have much lower annual operation fees owe to their higher efficiencies. This is why people choose heat pump pool heaters, which typically pay for themselves in a few years of energy saving. Along with the evolution from on/off heat pumps to inverter pool heat pump, the never-before-seen tech progress leads to the forward changing of COP. This has enormous potential – further activates the rising demand for the swimming pool market and brings the popular trend of 4-season swimming. Enjoy the whole year swimming fun is appealing. Therefore, prolonged operating time and seasonal energy efficiency (SCOP) of pool heat pumps have become new industrial topics.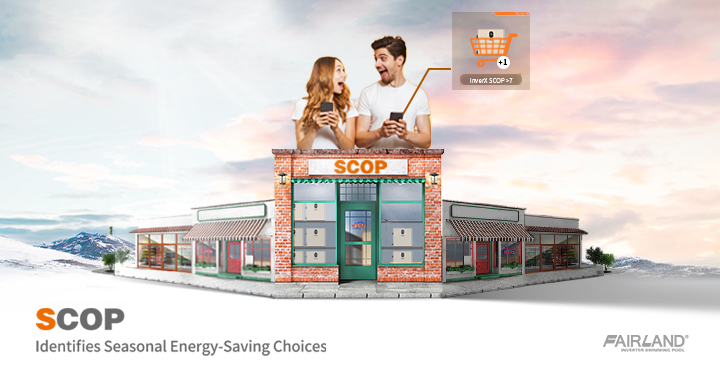 What is COP?
COP (Coefficient of Performance) is the most basic and significant energy-efficiency metric when comparing with heat pumps. Basically, COP is the ratio of how much energy a heat pump will produce of the input energy. For instance, if a heat pump offers 15,000 watts of heat while it spends 1,000 watts of electric power, the COP is calculated as 15000/1000 =15

Clearly, the higher the COP number, the greater efficiency of the heat pump, indicating lower operating costs. But COP is a result given by a single circumstance of laboratory test. That is, the value of each COP is tested under the corresponding conditions of temperature, pool water temperature, and humidity. When any of the above conditions change, the COP will also change. To more accurately estimate the whole energy consumption of a heat pump, SCOP is introduced.

What is SCOP (Seasonal Coefficient of Performance)?
SCOP or Seasonal Coefficient of Performance (or Seasonal COP) is an upgraded methodology of COP, which more accurately and comprehensively estimates the overall energy efficiency of a heat pump. Formulated by the Association Francaise de Normalisation and European Committee for Standardization, SCOP value is based on examining various operating frequencies and temperatures to predict the whole season's energy utilization.

Considering the low, medium, high values on both the operating frequency of heat pumps and ambient temperature, the calculation of SCOP is much more complex than COP. Yet SCOP is ranked from A to F, and customers could recognize heat pump efficiency by SCOP ranking system instead of relying merely on COP parameters.

The following is the ranking system of SOP energy efficiency:
| | |
| --- | --- |
| SCOP | Rank |
| SCOP≥7 | A |
| 7>SCOP≥6 | B |
| 6>SCOP≥4 | C |
| 4>SCOP≥3 | D |
| 3>SCOP≥1 | E |
| SCOP<1 | F |

With this comprehensive methodology, the SCOP parameter forms the basis for European energy labeling of heat pumps, helping customers to easily choose the most efficient product via the ranking system.


Foreseeing 4 Season Swimming Fun with Fairland' s Latest Inverter
Fairland INVERX is equipped with the TurboSilence® Inverter Tech, operating with the extraordinary performance of 15 times quieter and 3 times energy saving. As the achievement of both A-rank SCOP (Seasonal COP >7) and COP (highest 16.5, TÜV Rheinland certified), sizable energy has been saved.


More remarkably, INVERX withstands extreme temperatures from -15℃ to 43℃, which leads to the breakthrough of winter swimming fun. Fairland swimming pool heat pump china dedicates to taking innovations for better pool experiences and prolonging the swimming season to all 4 seasons as an upcoming wellness lifestyle. Thus, it makes "4 season Gym, 4 season Fun"come true.
More recommended articles for you:
Who Makes the Best Heat Pump System
How to Choose A Pool Heat Pump Fit for Your Swimming Pool
How Long Do Pool Heat Pumps Last? (3 Tips & 3 FAQs)