Fairland, one of the top quality makers of swimming pool heat pumps, recently released a new video demonstrating the robust manufacturing capacity of its air source pool heat pump intelligent factory and professional R&D capabilities to the industry and global end-users.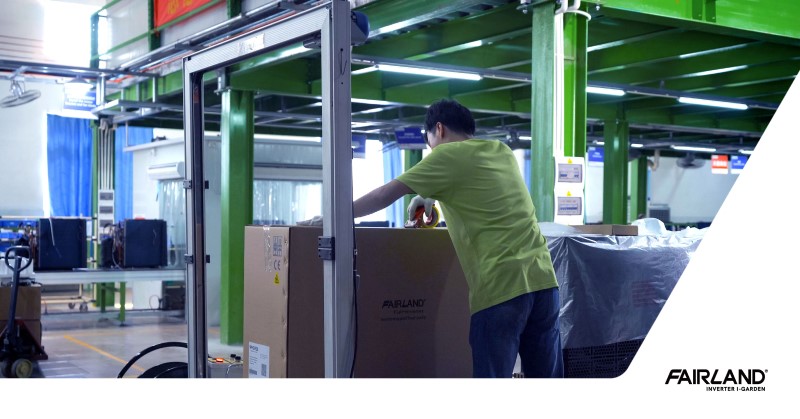 Reliable Manufacturer of Inverters for Over 120 Countries Worldwide
After years of rapid growth, Fairland is now more than just a heat pump manufacturer with a global network in over 120 countries. With 20 years of innovations in intelligent outdoor solutions, Fairland has established a reliable supply chain from core R&D to design, manufacturing, sales, and customer service. On an annual basis, Fairland's quality inverter factory delivers an average of 250,000 china pool heat pump to 120 countries worldwide.
Discover Fairland's China Pool Heat Pump Factory: What Makes a Qualified Inverter Heat Pump for Pool?
Every qualified inverter heat pump for a swimming pool must go through 13 procedures from birth to delivery, its vital links including strict pre-inspection before production, professional operation during production, testing each unit before packaging, securely packaged, and complete assembly for shipment. Throughout the 20 years, Fairland has insisted on adopting high-quality components, conducting a high rate of random inspection for all parts and 8-hour high-temp aging running test on PCBs, performing 100% quality control on the whole control system.
All through the production process, Fairland's high-quality inverter factory maintains specialized operations. Welding specialists with more than 10 years of experience perform the silver welding procedure for a highly reliable refrigerant circuit system. The assembly process is completed in an orderly and skilled manner by local employees who have more than 10 years of experience on the job.
Apart from this, the swimming pool heat pump inverter before packaging also needs to pass a refrigerant leakage test 3 times, a complete electrical safety test, a 45-minute running test for every unit, a drying/cleaning/rustproof treatment, and a random inspection for mass production in the laboratory. Altogether, more than 1,000 Fairland employees fight for the ultimate customer experience at the front line. Every swimming pool heat pump china carries Fairland's commitment to each pool family.
250,000 inverter pool heat pumps every year depart from Fairland's quality inverter factory to over 120 countries worldwide.
Join Fairland to Live a Smart iGarden Life
That is what Fairland is doing - deliver a fairyland of 20x Saving iGarden to every pool family. Under the new brand vision of 20x Saving iGarden, Fairland will continue to prioritize the ultimate customer experience and dedicate all efforts to innovating inverter technology and green intelligence for a zero-carbon future. With the advent of iGarden products and solutions, Fairland will eventually lead the world into the future of iGarden living, bringing you a comfortable, energy-saving, and intelligent 4-season outdoor livelihood. Welcome to join Fairland to experience the future outdoor life! See you at booth 5E68 of PISCINE GLOBAL EUROPE 2022 from 15 to 18 November.