Fairland will debut its newly developed INVERX® solar energy storage system at Intersolar Europe 2023 in Messe München from June 14–16, 2023. Peers in the industry and professional visitors will have the opportunity to discover the application of the hybrid inverters that are of the highest quality in the market as well as the intelligent interconnection of its solar energy storage system with home appliances and outdoor equipment, such as inverter pool heat pumps, at booth B4.680.
Robust Inverter R&D Strength Delivers the Best Quality Hybrid Inverter in the Industry
As the leading manufacturer of technology-based pool heat pumps in the industry, Fairland has been innovating in intelligent outdoor solutions for 20 years. Early in 2011, Fairland was the first to develop Full-inverter technology and led the global market trend, making
Full-inverter heat pump
a market staple in 2018. The passion for innovation didn't stop there, however. In 2019, after five years of experiments, Fairland introduced the revolutionary TurboSilence® Full-inverter technology, which has led the market trend from 2020 onwards.
Time and time again, Fairland speaks with the strength of its technological innovations. As a unique manufacturer with self-developed technologies, Fairland refines industry standards iteratively with its intelligent iGarden innovations. From the revolutionary Full Inverter Pool Heat Pump and TurboSilence® Full Inverter Pool Heat Pump to the newly developed INVERX® Solar Energy Storage System, Fairland has never stopped exploring and innovating with inverter technology for over two decades in numerous iterations. Today, Fairland boasts the highest-quality hybrid inverters in the industry.
What Makes A Qualified Solar Energy Storage System?
Each qualified Fairland solar energy storage system must pass several significant routine 100% tests before it leaves the factory, including the FCT test after PCB placement, safety test before aging (voltage resistance test, grounding resistance test, and insulation resistance test), ATE test before aging (finished product performance test), aging test (running 6 hours at a high temperature of 45-55 degrees), ATE test after aging (the finished product performance test), and an IP65 waterproof rating test. Two of the most critical tests are the end product aging test and the post-aging ATE test, which are crucial reliability checks to ensure that the INVERX® solar energy storage system operates optimally in every mode.
For 20 years, Fairland has insisted on using high-quality components, conducting a high rate of sampling inspection on all parts, and 100% quality control on the overall product. Every INVERX® solar energy storage system manufactured by Fairland carries Fairland's commitment to every home.
Empowering Every Home with INVERX® Solar Energy Storage System
A hybrid inverter is the brain of a solar power system. If a hybrid inverter breaks down, it will stop the whole solar system from working. Therefore, a quality hybrid inverter means being highly efficient and reliable. The INVERX® solar energy storage system, Fairland's latest solar product, equips itself with an intelligent hybrid inverter and a high-voltage scalable battery pack. The system can carry a 110% unbalanced load and provide uninterruptible power in case of mains failure within ten milliseconds, making it an efficient yet safe total power solution.
The INVERX® solar energy storage system has four operation modes available to different scenarios, all easily configurable via Wi-Fi, allowing you to implement intelligent energy management, including 24/7 monitoring, remote control, and upgrades.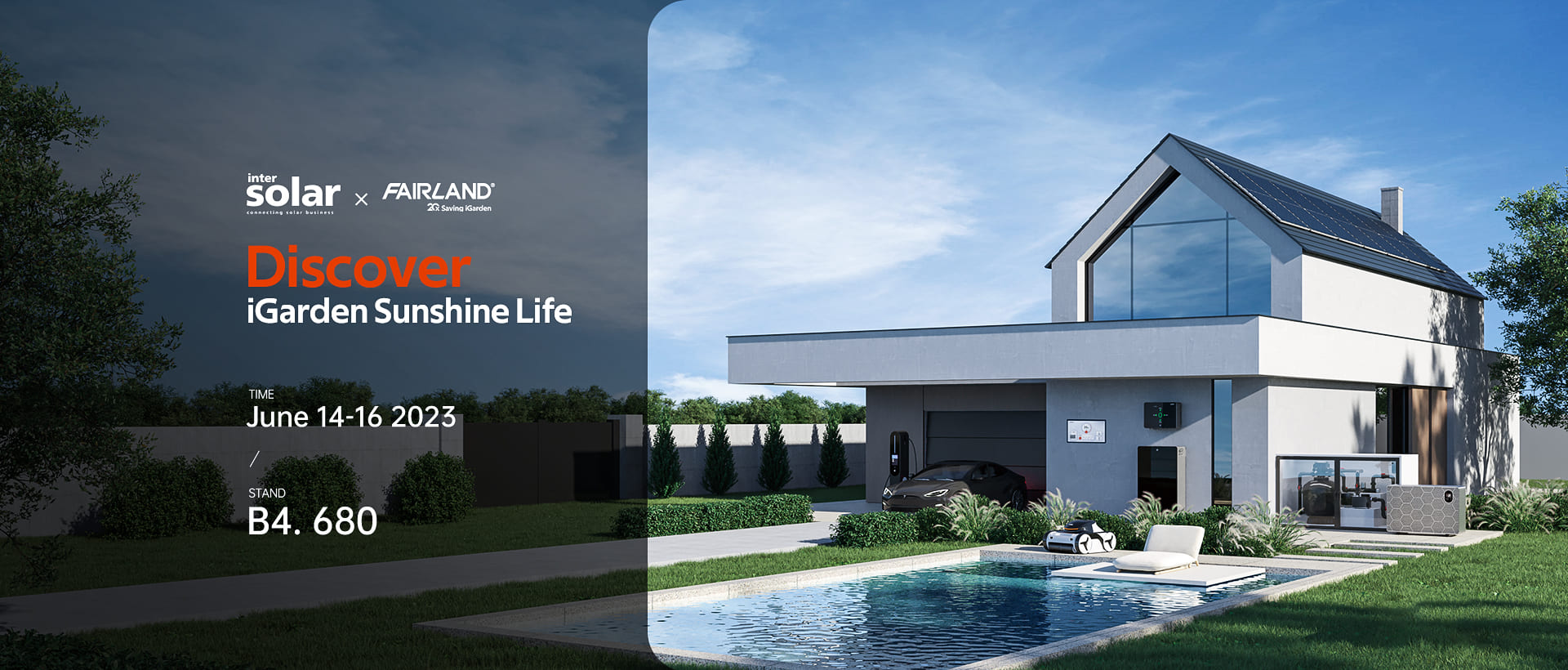 Discover iGarden Sunshine Life at Booth B4.680, Intersolar Europe 2023
As the number of fluctuating power generation plants (photovoltaic and wind) is rapidly increasing, the need for energy storage in the grid is also increasing dramatically. Hybrid inverters with battery connections and backup power capabilities have become a continuing trend in the residential sector.
Fairland, a leading
China pool heat pump
supplier, believes Technology Innovates Outdoor Life because new technologies provide vast potential. The application of the INVERX® solar energy storage system, especially its intelligent interconnection with home appliances and outdoor equipment, is a highlight of the Fairland 20x Saving iGarden solution. At booth B4.680 of Intersolar Munchen Exhibition 2023 from June 14-16, 2023, Team Fairland will be happy to introduce the new 20x Saving iGarden concept to customers worldwide and showcase the INVERX® solar energy storage system and the intelligent interconnection of homes and outdoor equipment, allowing guests experience the iGarden sunshine life brought by Fairland. See you soon at Booth B4.680 on June 14-16!