Sourcing for pool heater brand? Meet 2021 new pool heat pump. China pool heater supplier, Fairland launched a new inverter swimming pool heat pump at Piscine Connect 2021 on 13 – 14 October in response to market demand and for more possibilities to pool heat pump partners. The new pool heater INVERX Jumbo now caters to both the pool and spa needs to achieve 4 season fun.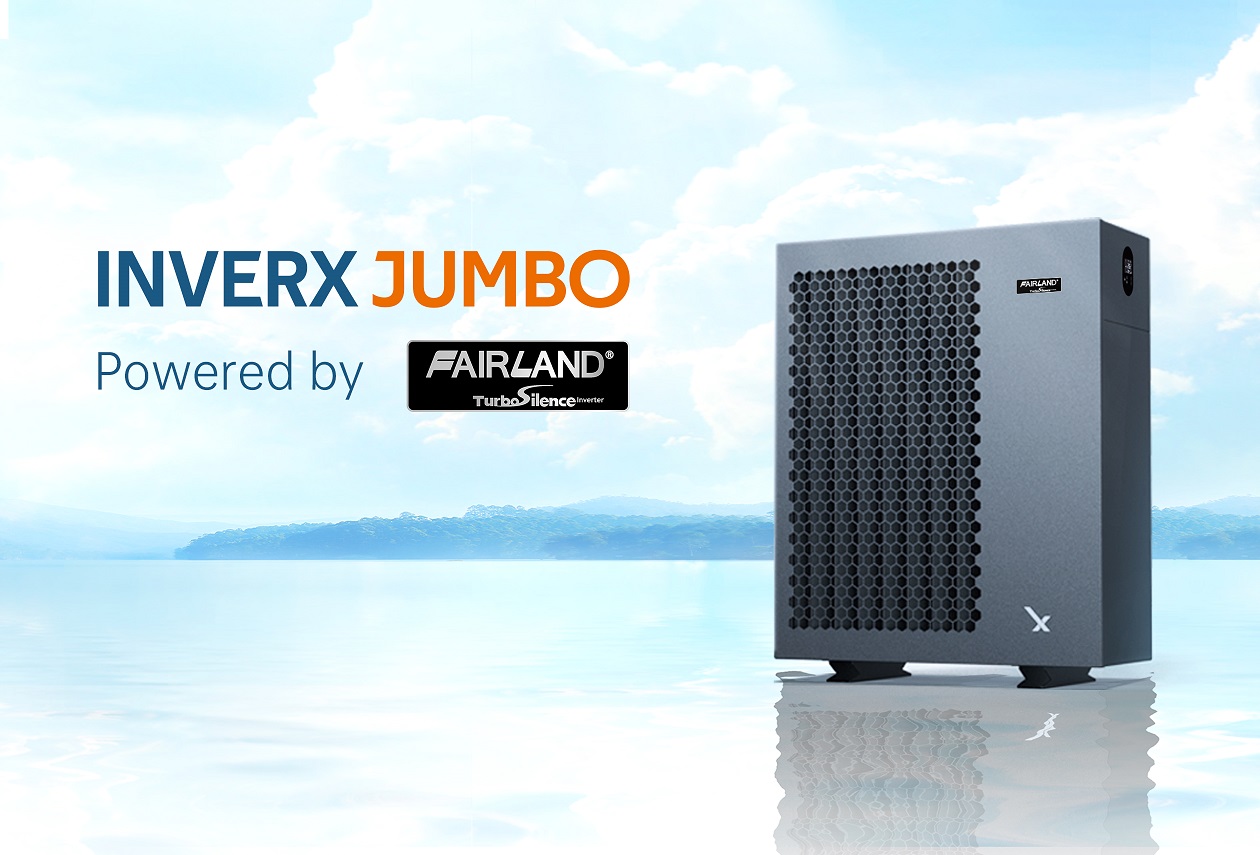 INVERX Jumbo Offers Broader Heating Temperature Range
INVERX Jumbo is the latest addition to Fairland pool heat pump lineup. Harnessing the same innovative technology as the INVERX series in pool heat pump collection, INVERX Jumbo combines TurboSilence® Inverter technology with EVI technology by pool heater supplier, Fairland, realizes the capability to operate under lower temperatures down to -25°C. With a powerful heating capacity of this inverter pool heat pump, the maximum water outlet temperature reaches 45°C.

In other words, the same swimming pool can be used for winter swimming, but also as a hot spring spa. Flexible swim and spa features match the wellness goals of people. With INVERX Jumbo, people can enjoy swimming freely all year round and have relaxing spa hours in the pool as well.
Powerful Combination of Innovative Technologies Enhancing Swimming Experience
Two innovative technologies in wholesale pool heater industry opened up more possibilities for INVERX Jumbo. TurboSilence inverter control system perfectly balances the inverter-compressor-control and heat exchanging technology. It drives the compressor to run hertz by hertz, while the fan motor of INVERX pool heater runs round by round. It combines the Turbo performance and Silence operation harmonously. And EVI technology can ensure operation at -25°C to achieve 4 season fun in most of countries and regions.
Main Features of INVERX Jumbo
The perfect combination of TurboSilence® Inverter technology and EVI technology brings the performance of INVERX Jumbo to a higher level. In addition to retaining 15 times quieter and 3 times energy saving of the INVERX series, INVERX Jumbo excels in both heating efficiency and low noise operation.

• 15 times quieter, average noise level 44dB(A)
• 3 times energy-saving, max COP up to 15 and SCOP up to 9
• Operating air temperature from -25℃ to 43℃, COP up to 2.5 at -25°C
• Maximum water outlet temperature up to 45℃, enjoy spa time at your wish
• Flexible selection among Turbo/ Smart/ Silence Mode
• Real-time energy consumption display at the controller
• Built-in Wi-Fi & remote control with APP

Welcome to visit
https://fairland.com.cn/TurboSilence_INVERX_Jumbo.html
for more details of INVERX Jumbo. Or send your inquiry to
sales@fairland.com.cn
today.