Swimming is one of the most popular sports in the world. As well as being fun, swimming is also an all-around and recreational activity that perfect for people of all ages. If you are looking for an excellent aerobic and total body-strengthening workout, swimming is undoubtedly a good choice - because swimming can provide all that and more. Swimming pool equipment from pool heater manufacturers like pool heat pump is growing in its demand.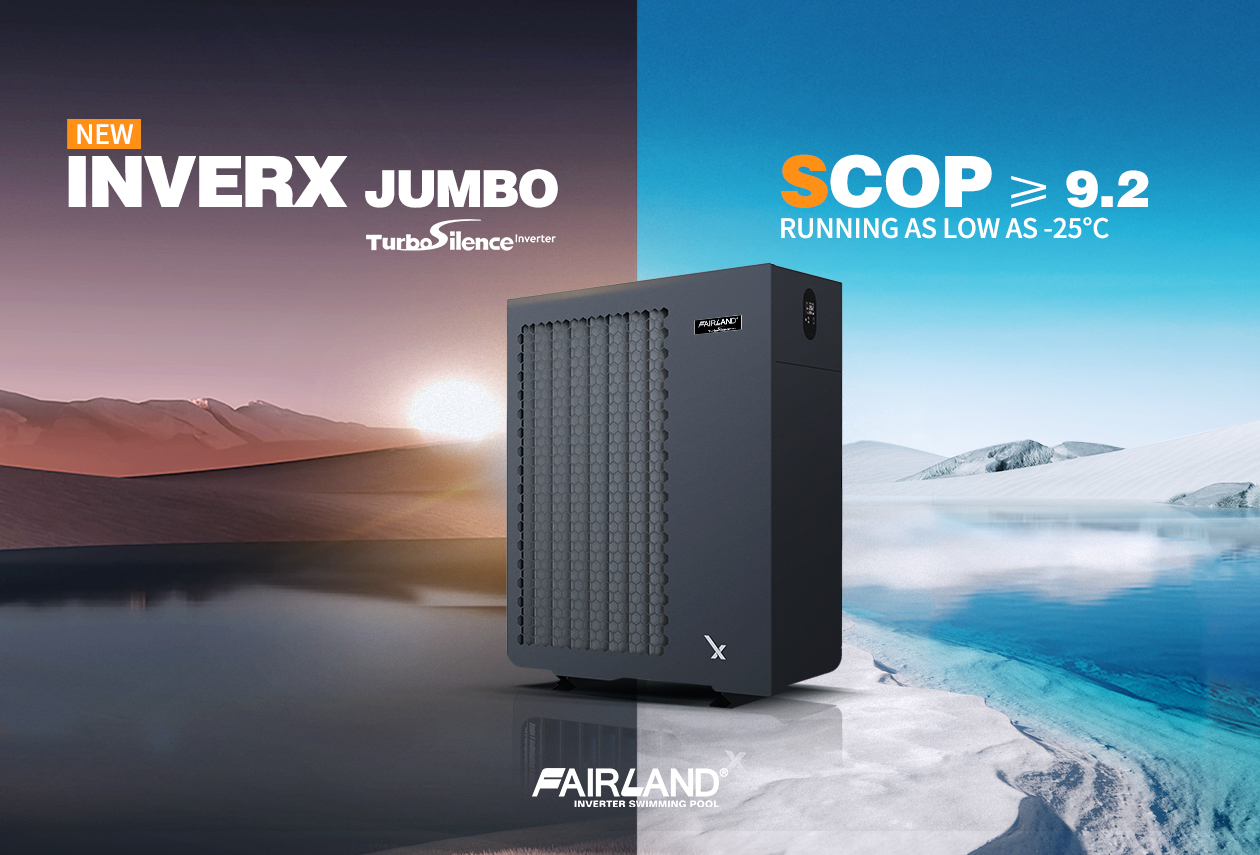 Growing Demand for Longer Swim Seasons Drives Pool Heater Manufacturers Towards Pool Product Innovation

As a relaxing and peaceful exercise, swimming provides an all-over body workout, as it uses almost all muscles during swimming. Even swimming for recreational can offer a low-impact workout, and it is a great way to relax and feel good.

Thus, more and more people are keen on swimming as a daily exercise. People's desire to swim in all seasons other than summer has led to the constant innovation of intelligent pool products.

Fairland INVERX Jumbo:the Latest Pool Heat Pumps Born for 4 Season Swimming

Fairland INVERX pool heat pump is one of the latest pool products in the industry, which debuted at Piscine Connect 2021 in October. As the newest member of Fairland pool heat pump lineup, INVERX Jumbo has realized the ability to operate at temperatures as low as -25°C but with water outlet temperature maximum up to 45°C for Spa treatment. TurboSilence® Inverter technology and EVI technology are the genii behind it. The combination of these two innovative smart technologies makes the overall performance of INVERX Jumbo powerful than ever.

Swimming not only helps to burn calories, shed extra pounds, and get in shape, it can even have a soothing effect on achy joints and muscles when the pool water is warm realized by pool heater manufacturers. Thanks to the broader temperature ranges, INVERX Jumbo developed by Fairland can both meet people's swimming and spa needs, achieving fitness and relaxation in one step.

Smart Innovation Brings Extra Swimming Fun

With operating temperature down to-25°C and SCOP≥9.2, INVERX Jumbo pool heat pump reduces the restrictions on application regions of inverter pool heat pumps. When the temperature outside begins to drop, people are used to winterizing the backyard swimming pool as the only choice. But with smart innovations like INVERX Jumbo in wholesale swimming pool heat pump industry, people in the higher latitudes can enjoy swimming freely throughout the autumn and winter seasons. It creates a better swimming experience and brings extra swimming fun to more families.

As the first to advocate the concept of "4 Season Gym, 4 Season Fun", pool heater manufacturer founded in 1999, Fairland will help pool users realize the swimming ideal of 4 Season Entertainment through continuous technological innovation. Welcome to stay tuned with Fairland on LinkedIn and Facebook. Or share ideas and build connections with Fairland via email at sales@fairland.com.cn.