Fairland, the leading green intelligence technology manufacturer and supplier dedicated to promoting technological outdoor life, has reshaped people's outdoor lifestyles with novel iGarden products, such as Full-inverter swimming pool heat pumps and AI-wireless pool robots. At Piscina & Wellness Barcelona in November, Fairland will showcase its unique 100% Green iGarden solution for sustainable and connected outdoor living, inviting global partners to witness the beauty of technology beyond imagination.
Rising Trend of Outdoor Areas with Swimming Pools Demands Innovative, Sustainable Solutions & Techs
Piscina & Wellness Barcelona is the premier event in Spain and one of the benchmarks in Europe for the industry. Spain is the second-largest swimming pool market in Europe, where the swimming pool industry provides products and services for new construction and the refurbishment and maintenance of more than 1.3 million swimming pools in Spain, as well as for wellness centers and other aquatic facilities. As one of the most international events on the pool industry of the European tradeshow schedule, the annual Barcelona show allows industry peers from worldwide to witness the latest innovations and trends in the pool industry from the world's leading companies.
As the demand for outdoor areas grows, swimming pools have evolved into hubs for health, leisure, sport, wellness, and socializing. In the meantime, there is a growing interest in adopting solutions and technologies that enhance sustainability, ease of maintenance, and the comfort of users. Energy savings and the reduction of water consumption, the impact of digitalization and connectivity on pool maintenance, and the creation of healthy, leisure, and wellness experiences are setting the trends.
Fairland Empowers Low-carbon Outdoor Life with 100% Green iGarden Solution
Today, homeowners are looking for an eco-friendly outdoor area that meets the requirements of energy efficiency, sustainability, comfort, tranquility, and convenience, where they can not only enjoy a four-season swimming experience but also have an "intelligent garden" that reflects their quality of life and taste. Fairland understands that smartening individual products is essential to optimizing the user experience, and that necessitates a fully automated intelligent management system.
Therefore, to better integrate outdoor intelligence, outdoor energy efficiency, and new outdoor energy sources, Fairland unveils its innovative 100% Green iGarden solution, which includes the latest pool heat pumps, wireless robotic cleaner, solar energy storage systems, and more, leverages digitization and automation to interconnect multiple individual products, providing ultimate comfort and significant resource savings for outdoor living enjoyment. With this unique 100% Green iGarden solution, users can:
Heat their pools 20 times more energy efficiently and 20 times more quietly with an X20 Inverter Pool Heat Pump;
Enjoy intelligent and human-free pool maintenance with X20 Wireless Robot of up to 20 hours of endurance;
Minimize their energy bills with InverX Solar Energy Storage System.
Most importantly, users can intelligently interconnect these individual products through the fully automated intelligent control system, iGarden Green Management System. The system provides a platform for massive device connectivity and management, freeing up the user's hands through one-button intelligent control. Thanks to this fully automated smart control system, users can remotely control multiple connected devices (e.g., heat pumps, water pumps, salt chlorinators, electric multiport valves, etc.) via a mobile phone APP and touch screen remote control, and they can also check the electricity consumption for every day of the year at any time. As this will be the first time that Fairland exhibits the iGarden Green Management System, it will be one of the highlights of Fairland's presence at the Piscina & Wellness Barcelona trade fair.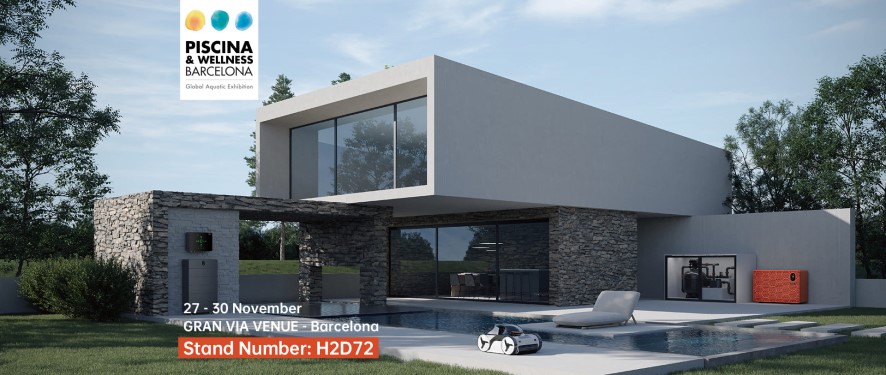 Dive into the Future of Sustainability with Fairland in Barcelona
Inverter technology innovations brought by the Fairland 100% Green iGarden solution are bringing people closer to an energy-efficient, whisper-quiet, and sustainable lifestyle of the future. From November 27 to 30, 2023, Fairland will exhibit its top-quality solutions for 100% Green iGarden and the remarkable capabilities of the latest innovation at Piscina & Wellness Barcelona. Fairland looks forward to collaborating with more partners to propel the innovation and enhancement of the iGarden for a unique and sustainable outdoor experience for more families. The great news that Fairland's X20 inverter pool heat pump and X20 wireless robot are finalists in the Innovative Product Award 2023 of Piscina Wellness Barcelona makes it even more exciting to see how green power can innovate the backyard. Join Fairland to dive into the future of pool technology and sustainable energy solutions. See you in Hall 2, D72!