Nowadays, for pool heat pump supplier, keeping up with trends, changes, and innovations in the pool community is essential in the information age. How come 4 season swimming be the leading trend? What is Seasonal COP? What are the highlights of Piscine Connect 2021? Follow Fairland and let's check out now.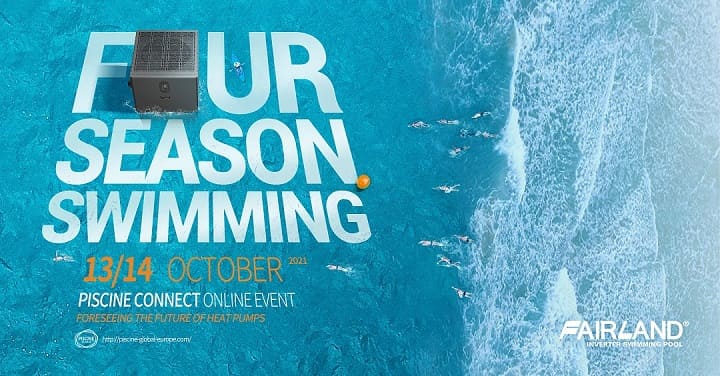 Click to learn more: Piscine Connect 2021 (13-14 October 2021)

4 Season Swimming, A Trend Leading the Industry
Over the years, the evolution and application of inverter pool heat pumps have enhanced the swimming experience by pool heat pump suppliers. As technology advances and demand increases in wholesale pool heat pump, swimming is no longer an activity exclusively for summer.

China pool heat pump supplier, Fairland dedicates to taking innovations for better pool experiences in wholesale pool heat pump supplies. TurboSilence® Inverter technology, as one of the most breakthrough technologies in the pool heat pump manufacturing industry, has readily broken the limitation of seasons. It enables swimming to transform from summer leisure to 4 season entertainment, unveiling a new experience of 4 season swimming that benefits every family.

In the hope that more people can enjoy swimming all year round, many pool heat pump and pool professionals have joined Fairland to promote 4 season swimming. It further boosts the market demand. Today, 4 season swimming has become a trend that matters in the swimming industry. Fairland redefines a high standard for pool heat pumps once again.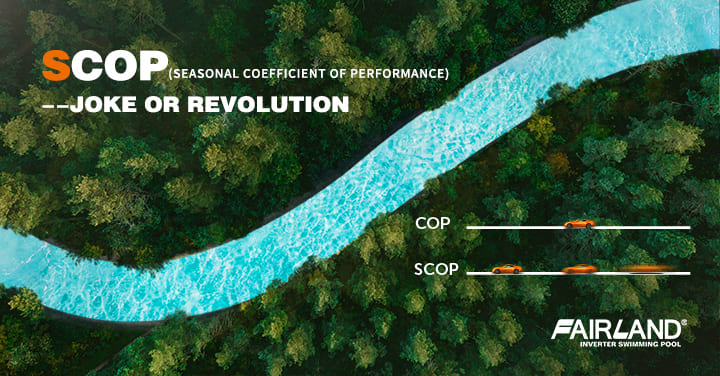 Seasonal COP, A Latest Standard for 4 Season Swimming
Enjoy the swimming fun throughout the year is appealing. However, the energy-efficient operation of pool heat pumps is also an issue of concern. Thus, the seasonal energy efficiency (SCOP) of pool heat pumps is becoming a new topic in the pool industry.

SCOP (Seasonal Coefficient of Performance/Seasonal COP) is a specific algorithm that can evaluate the efficiency of swimming pool heat pump operation during the entire heating season more accurately and comprehensively. According to the standard by the Association Francaise de Normalisation and European Committee for Standardization, the ranking system of SCOP energy efficiency from A to F could help customers better recognize the pool heat pump efficiency, rather than relying merely on COP parameters.

Therefore, pool heat pump supplier, Fairland takes the lead to introduce SCOP A-rank energy efficiency for the ultimate experience of 4 season swimming. Thanks to TurboSilence® Inverter technology, INVERX pool heat pump maintains high SCOP and COP energy efficiency within the broadest temperature range from -15℃ to 43℃. Featuring both A-rank SCOP (Seasonal COP >7) and COP performance (highest 16.5 with TÜV Rheinland certified), Fairland INVERX pool heat pump is the best choice to achieve 4 season swimming efficiently and eco-friendly.

Fairland Join PISCINE CONNECT 2021 to Showcase Innovations
Piscine Connect 2021, the digital event dedicated to pool and spa professionals, will be held on October 13th and 14th, 2021. It is a good platform for discussions and experience exchanges for the whole international pool and wellness community.

As a pool heat pump supplier with its focus on high-tech wholesale pool heat pump supplies, Fairland will participate in the event with trendy innovations INVERX TurboSilence series of pool heater, and Full-inverter Dehumidifier. On this occasion, Fairland would like to build up connections with pool heat pump and pool professionals and discuss the future of the swimming pool market.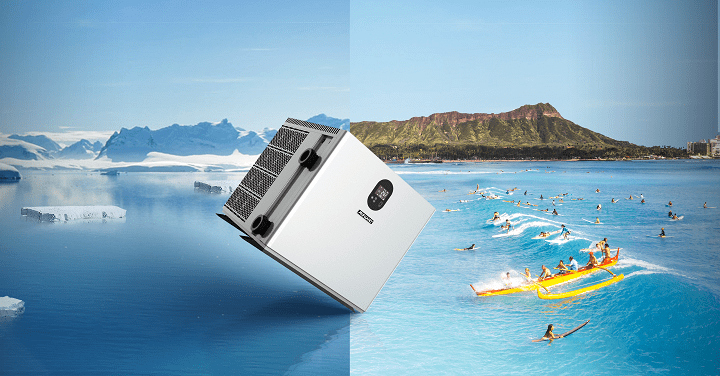 INVERX Series
Powered by TurboSilence® Inverter technology in wholesale pool heat pump manufacturing industry, INVERX series provides 120% heating capacity for fast heating, featured with 15 times quieter and 3 times energy saving with a maximum COP of 16.5. which sets Fairland pool heat pumps apart from others.
Full-inverter Dehumidifier
It is the first Full-inverter dehumidifier around the globe, 10 times quieter than a traditional dehumidifier, and with only 50% power consumption.

What's more, Fairland is about to launch a new product via live streaming at Piscine Connect 2021 for the first time. Stay tuned with Fairland on LinkedIn and Facebook for the latest.