Automatic pool cleaners have made time-consuming pool cleaning much easy. No decision is wiser than using a robotic pool cleaner. With regular use of a robotic pool cleaner, you will enhance your swimming experience and help extend the life of your pool. But what is a robot pool cleaner? And how does it work? In this article, we will go into more detail to help you choose the best robotic pool cleaner.
What Are Robotic Pool Cleaners?
Robotic pool cleaners are one of the three main types of automatic cleaners, generally consisting of a pump motor, a driving motor, a filter box, a transmission mechanism, and an electronic control system. The swimming pool robot cleaners work by connecting to a power supply or built-in batteries to clean a pool's bottom, walls, and waterline, featuring a timer function and mode adjustment.
How Do Robotic Pool Cleaners Work?
Robotic pool cleaners utilize highly efficient motors that allow them to work effectively without consuming too much power. With integrated touch and distance sensors, they can easily maneuver around walls and obstacles such as curves, stairs, and sharp corners. The robotic pool cleaner sucks up dirt and debris from the pool, stores it in a separate filter bag that comes with the cleaner, and empties the filter bag after each use.
How Does A Robotic Pool Cleaner Know Where To Go?
Robotic pool cleaners are intelligent and autonomous compared to conventional automatic pool cleaners. Knowing where to go without human involvement is one of the most distinct capabilities of a robotic pool cleaner. What makes this possible are the built-in sensors of the pool robot cleaner. These sensors map out the entire swimming pool, helping guide the intelligent swimming pool cleaner safely around the pool, but also sensing large debris in the swimming pool, notifying the cleaner where to go next. By using the built-in sensors, the robotic pool cleaner can detect the size and shape of the pool, as well as areas with more debris, allowing for a more effective clean.
Developed by the intelligent outdoor solutions brand Fairland, the X-warrior AI-wireless pool robot is one of the best wireless robotic pool cleaners available today. With advanced detection system support by self-developed navigation algorithms and " 1 Gyro+6 Sensors", the X-Warrior wireless pool robot can automatically detect the pool environment and recognize the actual working conditions, and plan the most efficient "3D-S" cleaning path in any case, making pool cleaning more efficient and relaxing.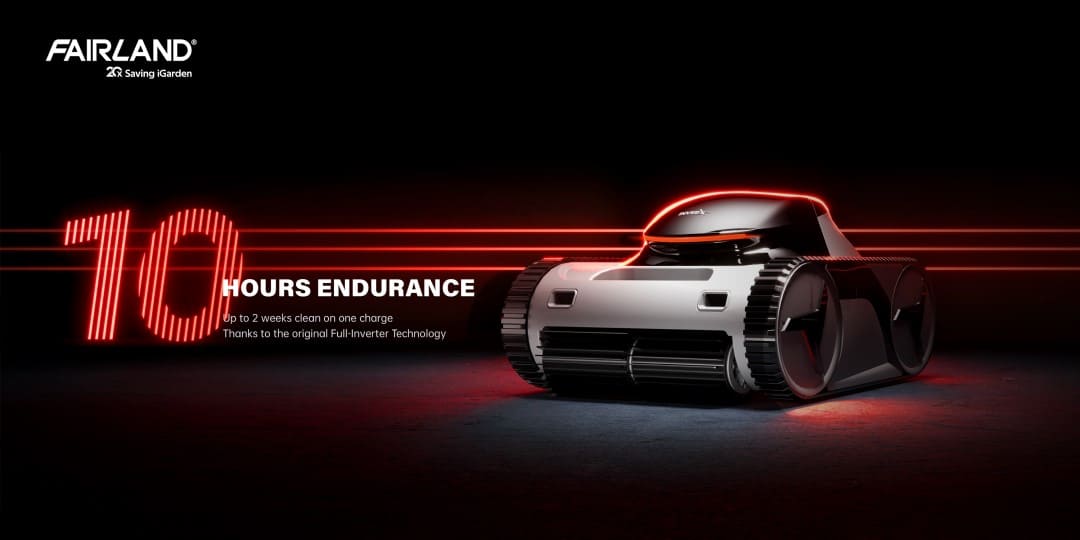 Final Words: What Is The Best Pool Robot 2023?
Overall, Fairland's intelligent wireless pool cleaning robot, X-Warrior, is one of the best robotic pool cleaners in 2023 that is both effective and easy to use. As the first AI-Wireless Pool Cleaning Robot developed by Fairland, X-Warrior is an innovative cordless pool robot cleaner designed to free up manual work. Beyond the revolutionary first-of-its-kind 3D-S cleaning path, Fairland has also achieved a technological breakthrough in the ultra-long endurance of wireless robotic pool cleaners. Thanks to Fairland's original Full-inverter Technology, the X-Warrior works automatically for up to 10 hours on each charge for two weeks of automatic cleaning in the most efficient 3D-S cleaning path. With the intelligent coordination of 3 DC motors, the X-Warrior wireless pool robot achieves unparalleled cleaning efficiency and ultra-long endurance than ever. If you want to experience the 10 Hours Pool Robot, contact Team Fairland today by emailing them at saleas@fairland.com.cn.