In years back, swimming pool heat pumps used to have only a simple on-off switch. With the latest technological innovations, modern pool heaters offer more features with multiple modes. However, heat pumps provided by different manufacturers will have different operating modes.

In order to deliver china pool heat pump energy efficiency and flexibility,

Fairland INVERX series inverter pool heat pump

provides 3 modes, including Turbo Mode, Smart Mode, and Silence Mode, to meet the needs of diverse circumstances. Now, let's find how each mode functions.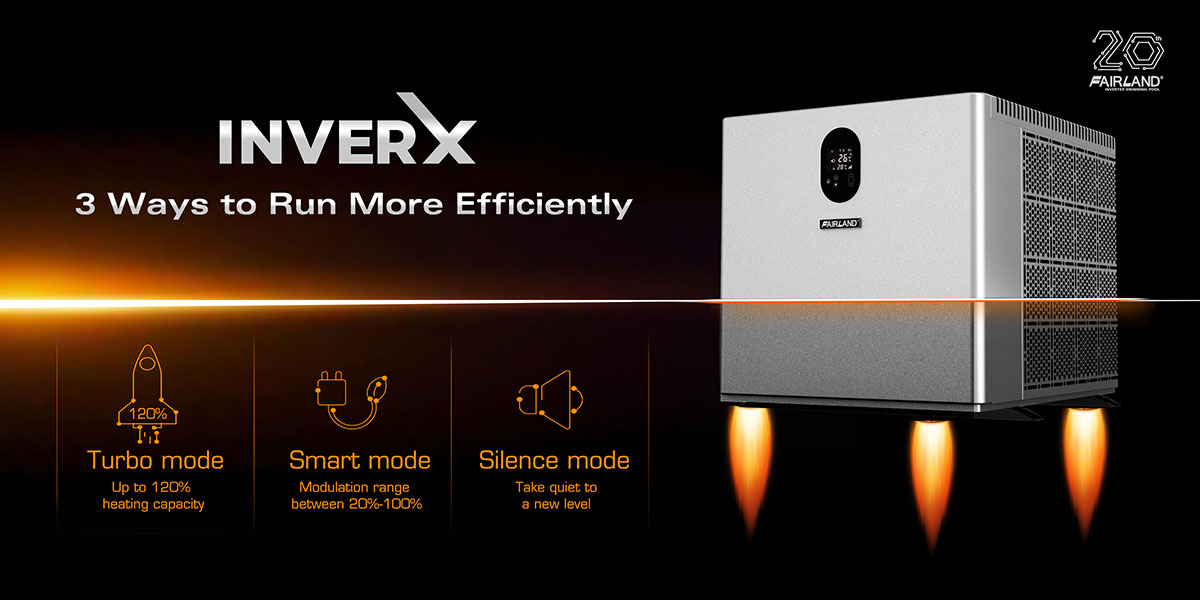 Turbo mode:
Turbo mode has the obvious advantages of

fast heating. When the swimming season starts, INVERX inverter pool heat pump in turbo mode will run at 120% capacity in achieving the desired temperature in the shortest time. Then it will vary its output according to pool conditions to maintain the water temperature with optimal efficiency.

Smart mode:
With Intelligent method of capacity adjustment, INVERX inverter pool heat pump in smart mode will run with a modulation range between 20%-100% to keep the water temperature. As it stands, the full inverter heat pump will run at an average of 50% capacity for 95% of the time, which leads to a fall in the average electricity bill.

Silence mode:
It is the mode we all love! INVERX in Silence mode will lower the sound level and reduce power consumption further still. We usually switch to Silence mode when the pool water has reached the desired temperature. Intelligently running at 20%-80% capacity, INVERX in Silence mode will ensure quiet operation and friendly neighborhood.


Knowing the functions of every mode in INVERX can help you better decide what works best for your heating needs at any time. To maximize your pool heat pump's performance, you can choose the most suitable pool heat pump wholesale to utilize your benefit.
More recommended articles for you:
Who Makes the Best Heat Pump System
How to Defrost Swimming Pool Heat Pumps
What's the Difference between Inverter Heat Pump and On/Off Heat Pump
Fairland Design Inspiration: Hexagon - The most efficient shape in the nature