Intersolar Europe, the world's leading exhibition for the solar industry, will take place in Messe München from June 14 to 16, 2023. Marking its debut at this professional exhibition for solar energy, Fairland will present its latest innovations in solar energy storage and demonstrate its coupling with inverter pool heat pumps at booth B4.680.
The Solar Market in Europe is Booming
Solar energy is a sustainable energy form and the fastest-growing energy technology. The global solar market is now growing exponentially, and 2022 marked another record year for the expansion of photovoltaics in Europe. The accelerated deployment of solar energy is in full swing, fueled by record-high energy prices. According to the annual EU Market Outlook released by SolarPower Europe in December 2022, with a yearly growth of 41.4 GW (gigawatts) of newly installed capacity in 2022, the increase of the European market was 47% compared to 2021. SolarPower Europe is optimistic about the outlook for the next few years, forecasting a minimum growth of 50 GW in 2023 and more than double the annual market growth from today by 2026, potentially reaching between 85 GW and 120 GW.
Grabbing the Solar Opportunity with Solar PV + Heat Pumps
As more and more power generated by photovoltaics becomes available, it will gain more importance to decouple generation and consumption by connecting the PV installation with an energy storage system. There is now half the number of private PV installations equipped with energy storage systems. On the other hand, the European Union wants to decarbonize the heating sector with heat pumps. According to the Solar Powers Heat 2023 report published by SolarPower Europe, households saved up to €3,700 on their energy bills with solar PV + heat pumps during the energy crisis in 2022, bringing the highest savings of up to 84%. It shows that combining a solar PV system with a heat pump protects consumers from any fluctuations in gas prices. It reduces the risk of rising retail electricity prices while lowering the household's energy bills.
Powering Zero-Carbon Outdoor Living with Fairland Innovation
As a tech-lead manufacturer and supplier to offer green intelligence iGarden solutions, Fairland unveils the smart combination of solar storage +
inverter pool heat pump
to unlock more potential for energy efficiency.
InverX® solar energy storage system: The InverX® solar energy storage system outfitted with a hybrid inverter and high-voltage scalable battery pack guarantees a backup power supply in 10ms, providing emergency power in case of mains failure. It features a 110% unbalanced load, and such a one-stop solar energy storage system can afford up to 110% AC output overloading. As a stand-alone power station for outdoor equipment and home appliances, the InverX® solar energy storage system is a total power solution enabling intelligent management of energy storage and power consumption.
INVERX20 inverter pool heat pump: Empowered by self-developed TurboSilence® inverter technology and a new generation of 3D heat exchanging technology, it intelligently optimizes the gas flow rate to maximize COP performance and redefines titanium heat exchangers, increasing the 30% exchange area and improving the efficiency. The latest INVERX20 inverter pool heat pumps redefine the industry standard and the ultimate pool experience with 20 times energy saving and 20 times quieter.
The optimal solution is the combination of solar PV and heat pump, namely the intelligent interconnection of the wholesale solar inverters such as InverX® solar energy storage system with the INVERX20 inverter pool heat pump. Such a smart, sustainable, and integrated energy mix consisting entirely of renewable energy sources is available 24/7, all year round. Solar PV and heat pump load profiles match well year-round and combine to maximize the reduction of consumers' energy bills.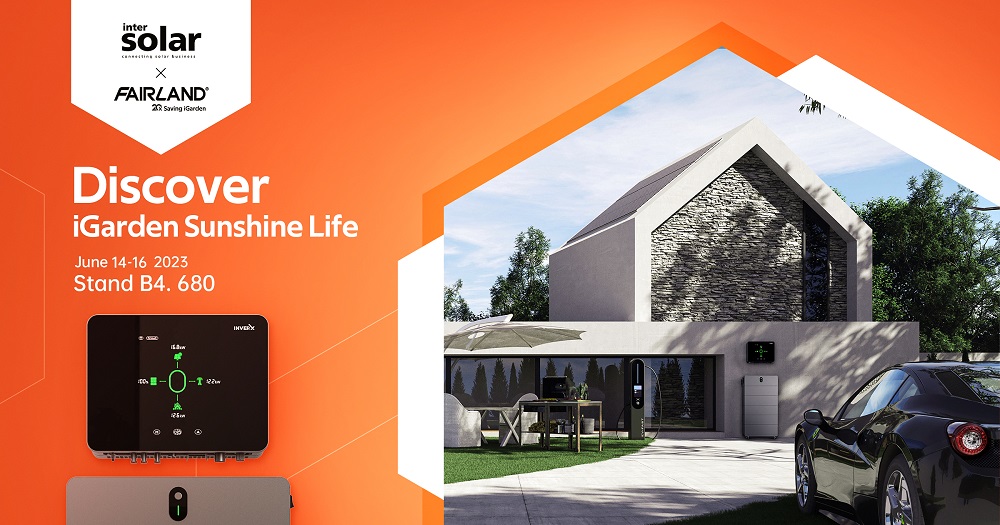 Explore 20x Saving iGarden at Booth B4.680
Such a fully integrated intelligent experience is one of the highlights of Fairland's 20x Saving iGarden solutions, which first proposes an integrated green solution of interconnected outdoor devices to help users cope with fluctuations in the energy market. Visit Fairland at booth B4.680 on June 14-16 Intersolar Munchen Exhibition 2023, where Team Fairland will present its newly developed solar energy storage system and showcase the intelligent interconnection with inverter pool heat pumps to bring you an innovative zero-carbon outdoor living experience.