The swimming pool industry is ever-changing. Driven by the rising demand for luxury and recreation in residential and commercial spaces, the swimming pool construction market has experienced rapid expansion in recent years. Swimming pools are now an essential part of contemporary homes and businesses, offering a place for entertainment and fitness and a relaxing haven away from the stress of daily life.
Yet, a variety of factors will impact the pool business in 2023. What market trends can we expect for 2023? Let's take a look.
Budding Trend of IoT Integration In Swimming Pools Creates New Opportunity
The future of the swimming pool construction market looks bright. With the growing health consciousness and the thriving tourism sector, more homeowners and commercial organizations are looking to add swimming pools to their properties. North America continues to dominate the global swimming pool construction market with a projected CAGR of 4.1% due to its flourishing pool construction and rising health awareness. According to statistics, approximately 2,000 gyms and 750 pools opened in the US in 2019. Swimming enhances physical fitness, lessens anxiety, and improves overall mood. Therefore, Straits Research expects these health benefits to drive the growth of the pool construction market.
Besides, Straits Research found that more than 450 new high-end hotel projects with multiple swimming pools are under construction in Europe (such as the UK, Germany, France, and Spain) and will open in the next few years. Straits Research predicts these projects will grow at a CAGR of 3.8% and generate USD 2 billion during the forecast period (2022–2030). Despite the high cost of construction and maintenance, the rapid adoption of the Internet of Things (IoT) creates opportunities for the global pool construction market. Energy-efficient pool heat pumps and self-cleaning pool systems stand out as good examples. They offer novel features that make it less costly to maintain and operate a swimming pool, which will lead to significant new growth opportunities.
Shipments of Pool Heat Pumps To Surpass 1.5 Million Units by 2027
The growth in swimming pool construction is boosting the pool heat pump market. The global market of swimming pool heat pumps had a value of USD 5.86 billion in 2021, and Arizton expects it to reach USD 7.99 billion by 2027, growing at a CAGR of 5.31%.
Low-carbon heating is a crucial priority, forcing economies to strive for and implement the widespread adoption of lower-carbon-emitting appliances. The need for energy efficiency and sustainability, combined with increasing disposable income and favorable government policies and incentives, has led consumers to prefer intelligent pool heat pumps. In 2021, the residential segment accounted for 56.32% of the market share, and Arizton expects it to reach an absolute growth of 38.67% by the end of 2027. In Europe, particularly France, Italy, and Spain, there is tremendous enthusiasm and interest in sustainable solutions such as pool heat pumps, which will fuel market growth. The US swimming pool and other related outdoor living products industries also have more than USD 11 billion in expansion opportunities, reflecting the room for growth in the heat pump industry. By 2027, Arizton estimates that pool heat pump shipments will surpass 1.5 million units.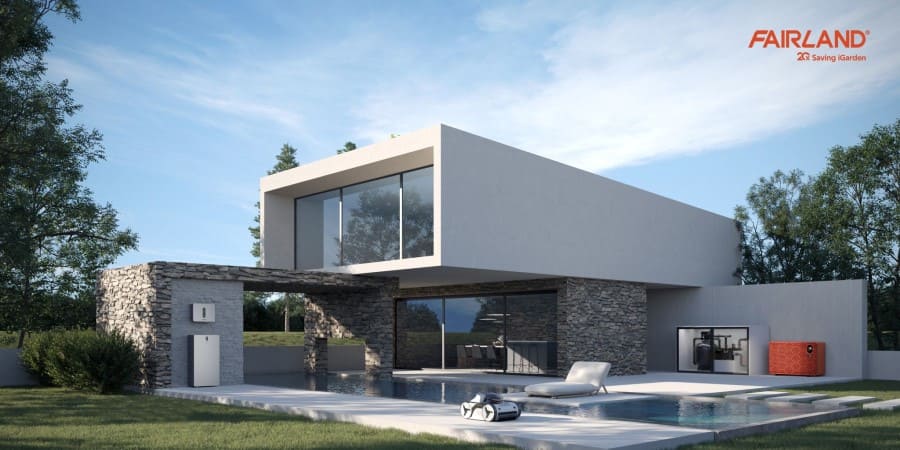 Robotic Pool Cleaner In High Demand To Reach Over USD 1.3 Billion By 2028
There has been a high demand for robotic pool cleaners. The global swimming pool clean robots market size was USD 1.0131 billion in 2022. According to a study by Business Research Insights, the market will reach an estimated USD 1.3889 billion by 2028, exhibiting a CAGR of 5.4%.
Rapid growth in the water recreation sector drives the global robotic pool cleaners market. Low maintenance costs are boosting the adoption of cleaning robots while increasing disposable income is expanding the demand for robots. As a cost-effective solution, pool cleaning robots have sophisticated automation features and minimal maintenance requirements. With their ability to detect and find the exact spot that needs cleaning, intelligent robotic pool cleaners can clean pool walls and floors without human assistance. Easy installation and low maintenance requirements have made pool cleaners powered by artificial intelligence increasingly popular in residential and commercial settings. The rising adoption of technology for cleaning robots will lead to a surge in the market growth of robotic pool cleaners.
Residential Solar Energy Storage Market To Expand At A CAGR Of 20.9%
The market for solar energy and battery storage systems is rising fast. Government support and worldwide financial incentives for renewable energy will strengthen the expanding solar industry. By 2023, the global residential solar storage market will increase from USD 6.15 billion to USD 7.5 billion. Report Linker estimates that the residential solar storage market will expand at a CAGR of 20.9% to reach USD 16.04 billion by 2027.
Increasing demand for sustainable power generation is driving the growth of the residential solar energy storage market. Sustainable power is a self-renewing, inexhaustible source of clean and renewable energy. According to the Center for Climate and Energy Solutions (C2ES), a US-based non-profit environmental organization, renewable energy was the fastest-growing energy source in the United States, with an increase of 42% from 2010 to 2020.
Moreover, in 2020, there was a 3% increase in the use of renewable energy, according to the global energy review by the International Energy Agency. Nations like the UK and Portugal are promoting capacity auctions for solar battery energy storage instead of conventional energy storage systems. These developments will have the expected positive impact on market growth.
What Will Be Booming In 2023?
Energy-efficient products and technologies will be the next big thing to boom in 2023. And Fairland's new lineup of eco-smart outdoor living products - the 20x Saving iGarden - is one of the best. 20x Saving iGarden is a comprehensive energy-efficient and intelligent solution for the outdoor garden that includes:
l X20 TurboSilence® Full-inverter pool heat pump, powered by Fairland's self-developed intelligent control system, perfectly matches the inverter-compressor and 3D heat-exchanging tech and redefines the pool heating standard with 20x energy saving and 20 times quieter.
l X-Warrior robotic pool cleaner, with advanced detection system support by navigation algorithms and "6 sensors +1 precise Gyro", detects the pool environment automatically and plans the most efficient "3D S" cleaning path to save you 60% of the cleaning time and works automatically in the most effective way for up to 10 hours per charge.
l InverX® solar energy storage system, equipped with an intelligent hybrid inverter and a high-voltage scalable battery pack that guarantees backup power supply in 10ms, is the first free energy outdoor solution to provide 100% priority power to outdoor equipment and home appliances, which enables on-demand use to lessen the reliance of outdoor garden appliances on the grid.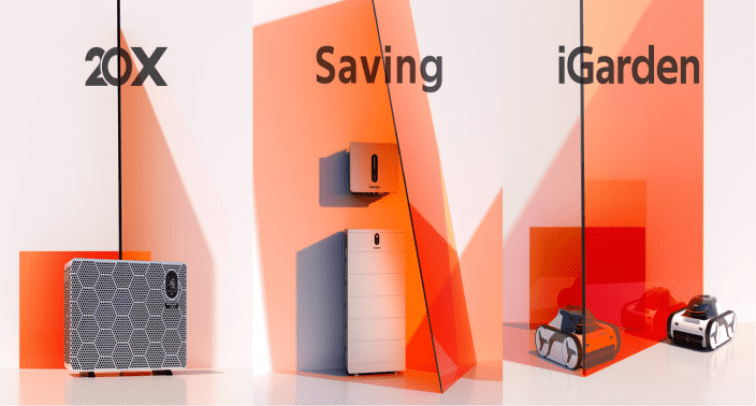 20x Saving iGarden by Fairland is a comprehensive energy-efficient and intelligent solution for the outdoor garden that contributes to 20x energy saving of backyard loads. From left to right, the solution entails the X20 TurboSilence® Full-inverter pool heat pump, InverX® solar energy storage system, and X-Warrior robotic pool cleaner.
The 20x Saving iGarden solution provides a fully integrated intelligent experience for new-built outdoor gardens and a seamless upgrade to the existing ones. Fairland TurboSilence® Full-inverter technology contributes to 20x energy saving of backyard loads, minimizes energy costs, and maximizes outdoor enjoyment, making it the best energy-efficient and intelligent solution for the outdoor garden 2023.
Final Words: What Is The Pool Industry Outlook For 2023?
2023 will be a vigorous year with challenges and opportunities for the pool industry. Energy efficiency and sustainability will be a buzzword in the pool sector in the coming years. According to the 2022 Wet Leisure Industry Survey, energy costs emerged as the thing that affected businesses the most in 2022 at 54.9%, tied for first place with economic impact. Thus, the spike in energy costs in 2023 is inevitable. As energy costs soar, consumers set to look for eco-friendly and cost-effective pool products. Over the past few years, many people have invested in swimming pools. These pools remain in need of cleaning and equipment upgrades for years to come. Pool manufacturers have to strive for innovative solutions to reduce their operating costs.
Incorporating revolutionary technology to meet the evolving consumer demand for environmentally friendly products is what Fairland has been doing since 1999. As a tech-lead manufacturer and supplier of green intelligence solutions, Fairland ensures a pleasurable outdoor experience through AI-driven technologies. Welcome to join Fairland, together tapping into the future outdoor life of 20x Saving iGarden.
* Source reference and data from Straits Research, Arizton, Business Research Insights, and Report Linker.