Having fun in the sun at home with a swimming pool is one of the most enjoyable laid-back ways. Although regularly maintaining a swimming pool is necessary, this does not mean you are tied to pool cleaning for the rest of your life. We are about to go over some straightforward but crucial pool-cleaning advice in this article. Even a beginner in pool maintenance can easily catch on. Let's get started!
What Are the Three Basic Concepts of Pool Care?
Circulation, cleaning, and chemistry play a more significant role in swimming pool health than any other pool maintenance activity, and they set the stage for the daily routine. The first step is to ensure sufficient pool circulation, as it will spread the chemicals throughout your pool water. Next, make cleaning your swimming pool once a week a routine in your pool maintenance schedule. Setting aside at least a few hours each time will be adequate.
For circulation, run the pool pump 8-12 hours a day;

For cleaning, once a week for pool sweeping and vacuuming;

For chemistry, test water 1-2 times a week.
3 Essential Pool Cleaning Tips to Keep Your Pool under Control
Keeping your swimming pool clean is especially important. If you are new to pool maintenance, the following three essential pool cleaning tips would be helpful to you.
1. Keep the water level steady. Providing that the water level does not fall too low is very important. The pump may suffer serious harm if the water level falls below the position where the pump draws water.
2. Test chemical levels consistently. Keeping the pH between 7.2 and 7.8 is vital in maintaining a healthy and beautiful swimming pool. Adding chlorine is necessary if the pH level is below 7.2. If you haven't used your swimming pool in a while, you can do a "shock test" by putting extra chlorine in the pool to clean it.
3. Clean the pool regularly. Depending on how often you use your swimming pool, ensure you clean it frequently to maintain the water clean and safe. Skim, brush, and vacuum your pool at least once every week. By doing so, the pool walls will stay clean, and any debris, leaves, or other objects will be out of the water. Of course, the best helper for your pool cleaning task is to outfit it with professional pool cleaners.
What Is The Best Automatic Pool Cleaner?
Intelligent swimming pool cleaners like robotic pool cleaners are now considered essential pool maintenance equipment for pool owners - as they make cleaning pools of all sizes and materials much easier and more effective. Robotic pool cleaners are more self-contained than other types of automatic pool cleaners. They require no installation and reliance on your inverter pool heat pump or filter, no hoses to set up, and little maintenance other than emptying the debris bin. The best robotic pool cleaners usually are versatile and efficient, allowing you to spend less time and money maintaining your pool and more time enjoying it.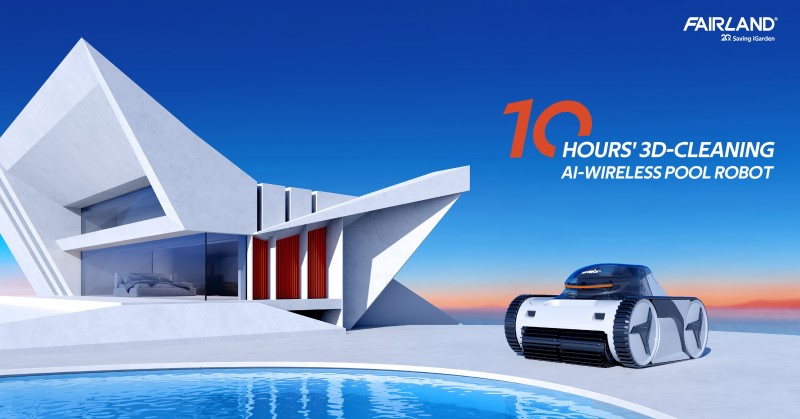 Which Is The Best Pool Robot On The Market?
Lately, cordless pool cleaners, one of the best robotic pool cleaners on the market, are gaining increasing popularity. Neither a power unit nor any power cord nor the need for a pool hose or booster pump - this has become the main attraction of cordless robotic pool cleaners.
X-Warrior AI-Wireless robotic pool cleaner is the newest model from Fairland. Unlike most smart pool cleaners powered by wires, this new cordless robotic cleaner from Fairland runs on a rechargeable battery, requiring no attachments such as power and hoses, making it more user-friendly. All it takes is to place the cleaner in your in-ground pool and let it do its job.
As the smartest and most convenient way to pool cleaning, Fairland X-Warrior wireless pool cleaner can keep your wireless robotic pool cleaner powered up for longer. Boosted by Fairland's original Full-inverter technology, the DC-Inverter motor of the X-Warrior runs at 20% to 100% power (Averagely < 50%), with each charge used for up to 2 weeks of cleaning. Take a liner pool of 4mx8m as an example. The X-Warrior AI-Wireless robotic pool cleaner can rapidly and effectively clean the overall pool (covering the floor, wall, and waterline) in 40 minutes.
Additionally, Fairland pioneered the patented intelligent "3D S Path" for the X-Warrior pool cleaning robot, making it more effective in cleaning pools. With an advanced control system, the X-warrior automatically analyzes the pool environments and plans the most efficient cleaning path, saving you 60% of the cleaning time on average.
The intelligent AI mode function, which makes it easy for users to set the cleaning mode according to their cleaning habits, is another feature of the X-Warrior. For example, the schedule is to clean the pool every two days for 30 minutes, focusing solely on the pool bottom. One-click will enable all of this.
Final Words
Pool maintenance requires a lot of effort and basic skills to keep it clean and safe, and it is often time-consuming to clean a pool. But with a Fairland X-Warrior AI-Wireless robotic pool cleaner, you can enjoy more than the pleasure of swimming but the peace of mind that comes with regular and thorough pool maintenance. If you're interested in Fairland's new lineup of the best wireless robotic pool cleaner, send your inquiries to sales@fairland.com.cn today. Or follow Fairland on LinkedIn, Facebook, YouTube, Twitter, and Instagram for more up-to-date news.