An indoor swimming pool is a vast investment. But with proper climate control, it can safeguard its lifespan and ensure a lasting return.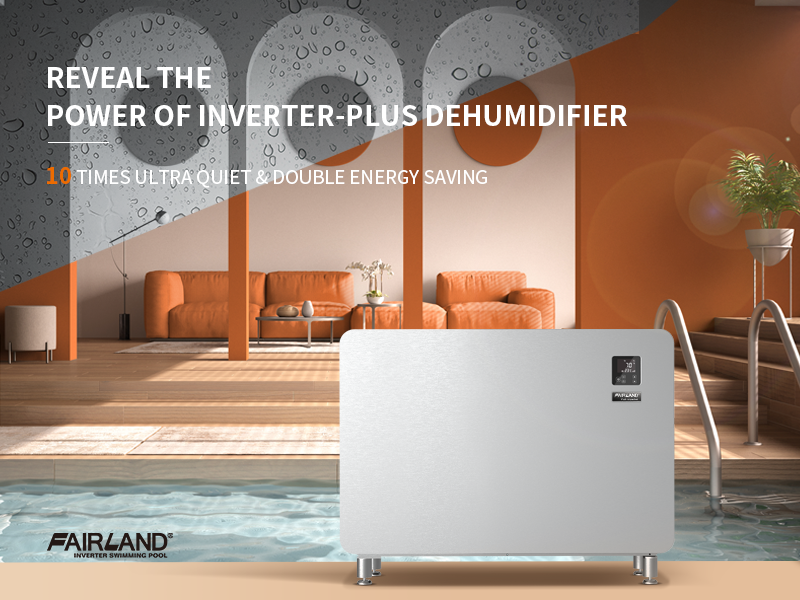 Set the Appropriate Room Humidity to Protect Your Indoor Pool
All you need is a swimming pool dehumidifier
The American Society of Heating, Refrigeration and Air Conditioning Engineers (ASHRAE) recommends maintaining a relative humidity of 50% paired with a pool room temperature of 24℃, to accord with the ventilation codes devised to protect the public health and safety. However, indoor pools are always damp due to humid air. If it is a heated swimming pool, the high evaporation rate often leads to high humidity in the pool room. The risks of mold and mildew, wood rot, metal corrosion, and damage to the paint are increasing accordingly.
Hence an indoor pool room dehumidifier is a must-have machine from every indoor swimming pool. By controlling indoor swimming pool room humidity and air temperature, a dehumidifier creates a stabilized indoor environment to effectively reduce humidity, improve air quality, and avoid mold and structural problems.
Select the Right Pool Dehumidification Solution for Your Indoor Pool
Everyone prefers an energy-efficient & ultra-quiet pool dehumidifier
Investing in the proper pool room dehumidifier can save money and maintain a healthy environment. Nevertheless, traditional on/off dehumidifiers are quite noisy disappointingly. More pool users are demanding a quiet swimming environment. The noise of the dehumidifier becomes one of the main factors affecting the selection of pool users.
As a technology innovator in the swimming pool industry, Fairland makes every effort to provide the best solution for every home. Quiet running is the critical point, and energy-saving is a must. What happens if the dehumidifier meets Full-inverter technology? Fairland has made a brave attempt at innovation.
When Pool Dehumidifier Meets Fairland Full-inverter Technology
10 times quieter, double energy saving, simple classic patent design
In 2019, Fairland designed the first R32 Full-inverter Dehumidifier in the world - Inverter-plus Dehumidifier. It is powered by Fairland's original Full-inverter technology, realizing 10 times quieter than a traditional dehumidifier while remaining high-efficiency with only 50% power consumption. The average decibel of an Inverter-plus Dehumidifier is only 42.7 dB(A), even quieter than a working refrigerator!
In addition, Inverter-plus Dehumidifier is the same as other inverter pool heat pump in a simple classic hexagonal design, the unique patent design by Fairland. The simple, clean outlook blends perfectly with any indoor swimming pool. A quiet-running, energy-efficient and good-looking dehumidifier, only Fairland R32 Full-inverter Dehumidifier can meet all your needs at once.
Reveal the Power of Fairland Inverter-plus Dehumidifier
Ultra-quiet performance highly recognized by the swimming pool industry
Since its world debut in 2019, Fairland Inverter-plus Dehumidifier has proven to be the best in its class. Back at Piscina & Wellness Barcelona 2019 and Aquanale 2019, many visitors were deeply impressed by the ultra-quiet performance of Fairland Inverter-plus Dehumidifier. They pricked up their ears to the working sound of the machine at the exhibition site, and all marveled at the magic of Fairland's original Full-inverter technology.
With a pool dehumidifier that features Fairland Full-inverter technology, everyone can enjoy comfortable and quiet indoor swimming all year long in a cost-friendly way. Welcome to reveal the power of Fairland Inverter-plus Dehumidifier! Feel free to get the detailed specifications at https://www.fairland.com.cn/product/inverter-plus-dehumidifier.html , or seek professional advice from the Fairland team at sales@fairland.com.cn.
More recommended articles for you:
7 Basic Tips for Indoor Pool Dehumidifier
How to Tackle High Humidity in Ice Rinks
Fairland Full-inverter Dehumidifier: Ultra Silence That You Never Imagined