In the past, we could only swim in late spring and the whole summer. But now, thanks to inverter technology, the pool heat pump is more efficient, and we can swim all year round.
However, the recent surge in energy prices for electricity and natural gas in Europe continues to plague family and commercial energy use. Financial Times reports that gas prices in Europe have risen to their highest level in four months, and electricity prices in Europe have climbed to their highest sustained level ever. Bloomberg estimates that electricity prices in Germany and France will surge with natural gas prices in the upcoming year as uncertainty over energy supply grips the market and the cost of acquiring electricity to power and heat Europe this winter will reach exceptional levels.
Therefore, choosing a high-efficiency inverter heat pump or commercial swimming pool heat pumps is one of the ideal options for saving energy. Why does the inverter have so little energy consumption? Let's start with heat pumps for pools - how does it work?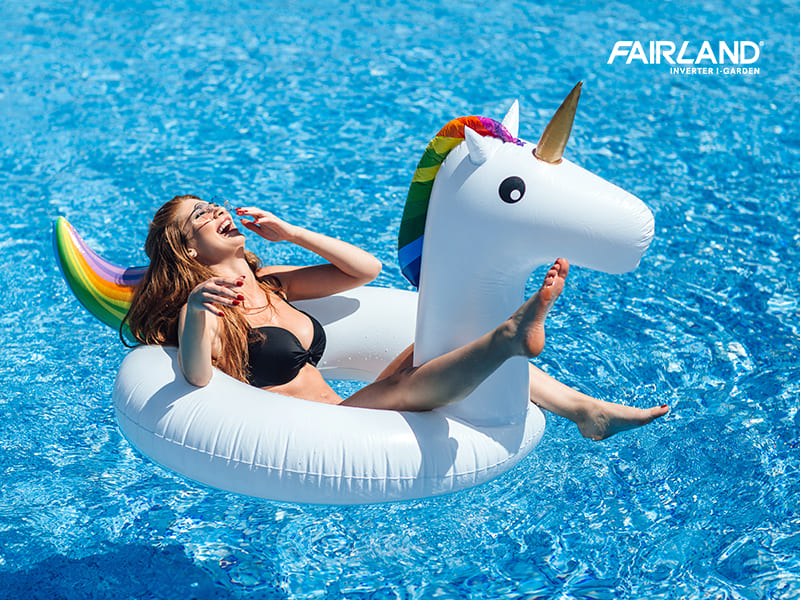 What Is An Inverter Heat Pump System for Pool?
A pool heat pump with an inverter is a generally effective heating system. It warms the swimming pool by absorbing heat from the outside ambient air and transmitting it into the water. Air source pool heat pump do not use heating elements to generate heat. The surrounding ambient air serves as its heat source. That is, use the available heat and transfer it from one place to another. Compared to a kitchen stove or a household electric heater, an inverter heat pump for pool consumes comparatively little electricity to power some electrical components. Because of this, they can make swimming pools more affordable to operate.
How Does A Swimming Pool Heat Pump Work?
The pool heat pump will start working according to the set water temperature. Swimming pool heat pumps with inverter systems generally work as follows:
The high-pressure and high-temperature refrigerant gas comes out of the compressor and enters the titanium heat exchanger, where it exchanges heat with the water outside the titanium tube. Then it releases heat and cools into a high-pressure normal-temperature liquid, raising the temperature of the water on the outside of the titanium tube.
After being throttled and depressurized by the electric expansion valve, the high-pressure and normal-temperature refrigerant turns into a low-temperature and low-pressure liquid. This liquid enters the titanium heat exchanger to turn into a low-temperature and low-pressure gas, absorbing heat in the air during evaporation.
The low-temperature and low-pressure refrigerant then go into the compressor to compress into a high-temperature and high-pressure gas again, where the overall process restarts. During the whole circulation process of heat exchange, the heat needed for the hot water supply is exchanged in the titanium heat exchanger.
The compressor is the heart of the system. The operation of the compressor can affect the flow or circulation of refrigerant in the system. It is worth noting that energy-efficient inverter pool heat pumps usually use scroll compressors rather than reciprocal compressors in standard units.
Do Pool Heat Pumps Work with Cooling?
Yes, an inverter pool heat pump cools the pool water as well. The key lies in the unique reverse cycle function of the reversing valve that allows the pool heat pump to remove the cold water while returning it to the pool for cooling. The specific cooling principle is as follows:
The high-pressure and high-temperature refrigerant gas enters the evaporator after it is discharged from the compressor. Then it releases heat and cools to a high-pressure and medium-temperature liquid.
The high-pressure and medium-temperature liquid comes into the electric expansion valve for throttling down and reducing pressure to become the low-temperature and low-pressure liquid.
After that, the low-temperature and low-pressure liquid enters the titanium heat exchanger and absorbs heat from the water to cool the water. Then turned into the low-temperature and low-pressure gas.
Again, the low-pressure refrigerant gas goes into the compressor to compress into a high-pressure gas, and so on to keep the cycle going. At this time, the chilled water required is obtained in the titanium heat exchanger.
Pool heat pumps with inverters use refrigerant to maintain a set pool water temperature by performing a back-and-forth heating or cooling cycle. Thus, an inverter pool heat pump with a heating and cooling function will maintain a cozy water temperature all year round, allowing you to continue swimming comfortably during extremely intense heat waves, maximizing your swimming season as long as possible.
What Makes Pool Heat Pumps Highly Efficient?
Technology advancements have made it possible for pool heat pumps to function with astoundingly high efficiency. R&D since 2011, Full-inverter technology by Fairland has outperformed itself with the high-quality inverter system. Realizing the stepless speed variation of both compressor and fan motor, it halves the running cost of a pool heat pump with astonishingly high COP, low noise levels, and long lifespan. When the average COP of pool heaters is between 3 and 7, Fairland's Inverter-plus pool heat pumps with an average COP of 11 have become a game changer for the entire swimming pool industry.
Not only that, Fairland furthers the energy efficiency of inverter pool heat pumps with technology innovation. As the tech-lead
inverter heat pump company
, Fairland optimized based on Full-inverter technology and introduced the revolutionary TurboSilence® inverter technology. TurboSilence® inverter technology stunned the globe with its 3 times energy-saving and 15 times quiet performance when it debuted at Piscine Global Europe 2019. It represents the most advanced combination of both Turbo and Silence. TurboSilence® inverter technology is born to be innovative. It leads precise computing and manipulations of pool heat pumps concerning compressor frequency, fan speed, and booster function to the next new level - 5 times quieter and 20% higher COP than Full-inverter technology.
Why Choose An Inverter Heat Pump to Heat Your Pool?
That is because inverter pool heat pumps save more energy than ever before. The INVERX with TurboSilence® inverter technology delivers 3 times energy saving, enabling pleasant 4-season swimming with less energy consumption and lower carbon footprint.
Take the 44.8 cubic meter swimming pool in Berlin, Germany, as an example. The yearly average temperature in the area is 9.1 degrees Celsius. The pool is heated daily from 7:00 am to 10:00 pm using a Fairland IXCR80 inverter heat pump to maintain the water temperature at 26 degrees Celsius. While under the same condition, an on/off pool heat pump might cost you €5,900 annually. But the INVERX will save you €4,200 a year. The higher efficiency of the INVERX has spoken for itself, making it the
best heat pump for swimming pool
heating in all seasons.
Final Words
Committing to and practicing carbon neutrality requires global efforts, especially today when the European electricity prices are soaring at record levels. How to harness technology innovation to reshape the value chain and supply chain has become a crucial issue. Concerned about global sustainability, the
swimming pool inverter heat pump supplier
Fairland is dedicated to worldwide net zero emissions and constantly optimizes inverter technology to increase the energy efficiency of outdoor living. Pool heat pumps with TurboSilence® inverter technology bring 3 times energy-saving and 4-season swimming fun. From now on, every pool family may enjoy swimming to the fullest with less hassle. Welcome to contact Team Fairland at
sales@fairland.com.cn
for further information.
More recommended articles for you: