A pool house has long been considered a symbol of luxury and good times. In addition to keeping cool during the hot summer months, the pool house provides an outdoor space for entertainment, where the family and friends can rest, rejuvenate and come together. When there is a pool house on the property, it only takes a few steps to feel like a vacation.

The design of an exquisite pool house depends on different lounging needs, especially the budget and space, including amenities you desire, the available space, the size of the pool, the yard, and the main house itself. If you don't know where to start, get some inspiration from the ideas below.

Go Big with a Two-story Pool House
While many pool houses are single-story, there is no reason you cannot create a multi-story pool house if you have a budget but limited space. The Srygley Pool House in the southern United States by architect Marlon Blackwell provides all the comfort of a guest house. It is a double-height space that features an overhanging sleeping loft containing bunk beds for six children. A small kitchen and dining space, a bathroom, and a small sitting area are included on the ground floor.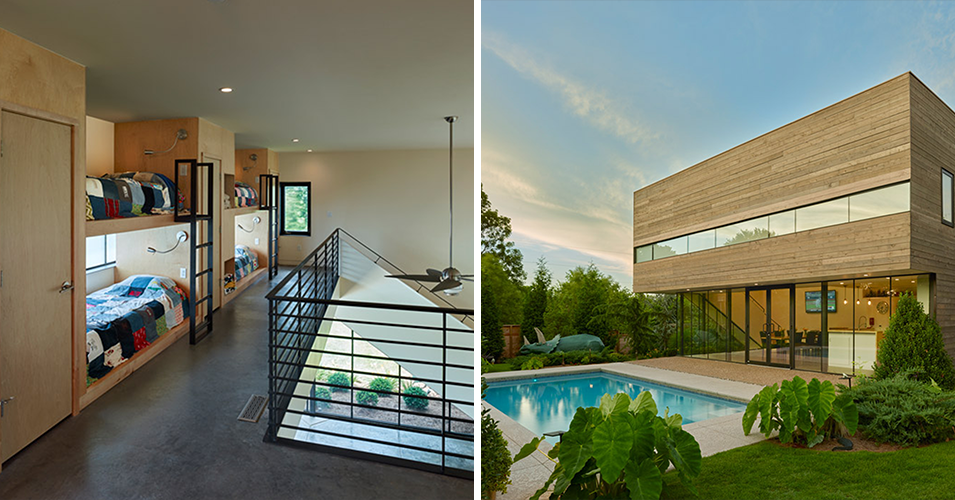 The Srygley Pool House by architect Marlon Blackwell from dezeen
A Retreat & Relaxation Space for Each
When the pool is some distance from the main house, you may consider adding a recreational area to your pool house. This stunning pool house created by the New York design studio General Assembly consists of two solid volumes, connected by a central pergola as the entrance to both buildings adjacent to it. The compact structures each contain a single room, where you and your family can enjoy each own leisure space without disturbing each other.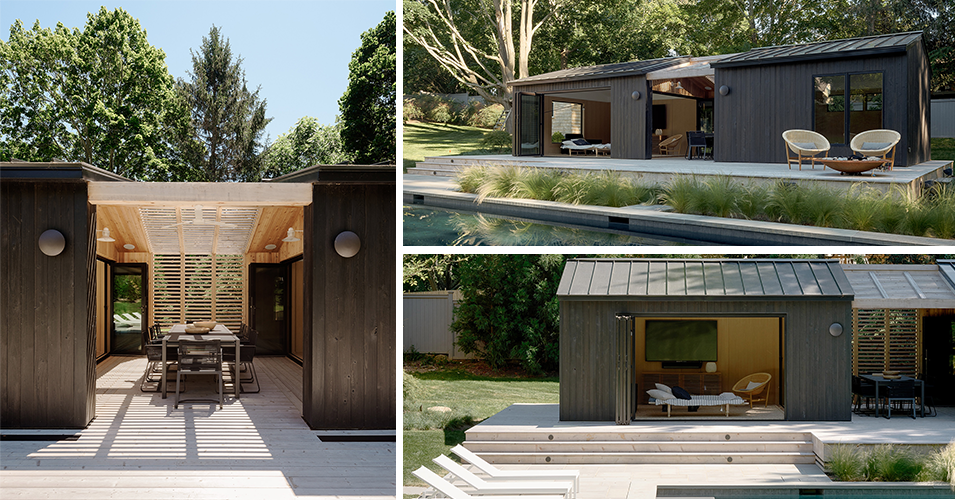 New York pool house by General Assembly from dezeen
A Hang-out Space Inspired by the Sea
By taking full advantage of the surroundings around the pool, Mexican firm CDM created a fun space that is perfectly suited to the outdoor pool environment. They have embedded a beachfront pool house and swimming pool into a rugged vegetation-covered hillside, which allows overlooking the Pacific Ocean from the pool house. A pathway leads down to the swimming pool carved into a rocky outcrop. The use of multi-tone tiles in the basin emphasizes the architecture's connection to the natural environment once again.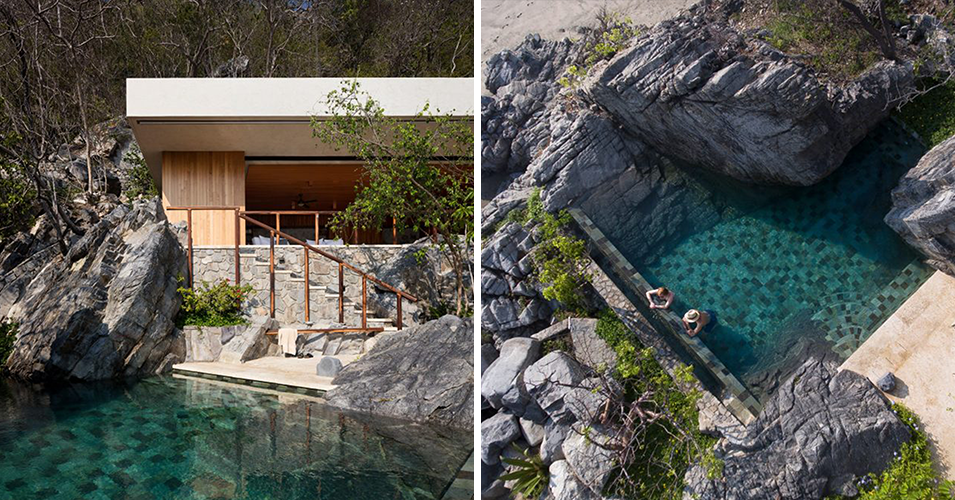 A beachfront pool house by Mexican firm CDM from dezeen
A Waterside Retreat Adjacent to Sunken Lounge
Speaking of luxurious lounging, how about a shallow pool surrounding the sitting area? This is a modern swimming pool created by Randy Angell Designs. A pergola with narrow slats shades one end of the pool and the sunken outdoor lounge area. The pool house is adjacent to the sunken lounge, with a covered sitting and dining area to the home's luxurious outdoor space, where the swimming pool is only a few steps away.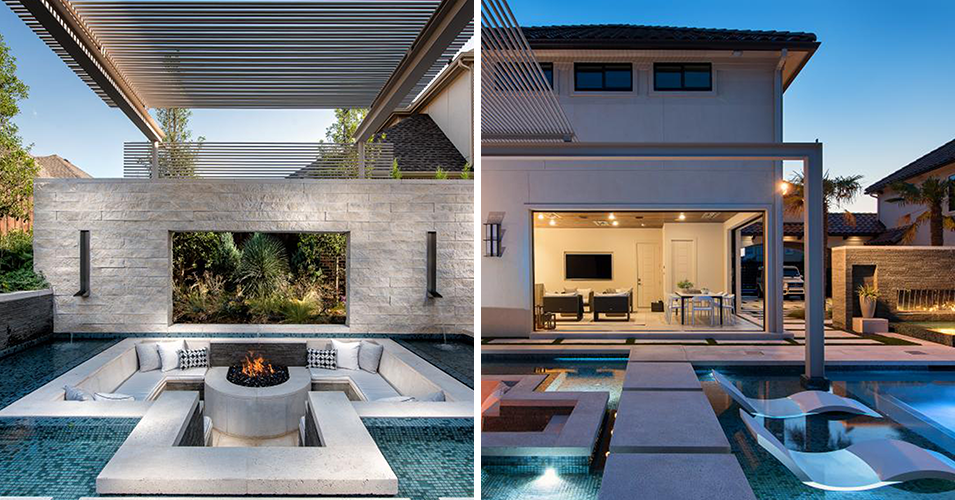 A pool house adjacent to the sunken lounge by Randy Angell Designs, photo by Jimi Smith
An All-purpose Space Extending Your Living Environment
For passionate cooks, the best pool houses are the small backyard kitchens that complete the dining space and provide everything needed poolside. The Greenwich pool house by Alisberg Parker Architects features two symmetrical pavilions. One pavilion features a changing area and a bathroom for the pool, while the other is a lounge with access to the swimming pool and dining area with a foldout door system.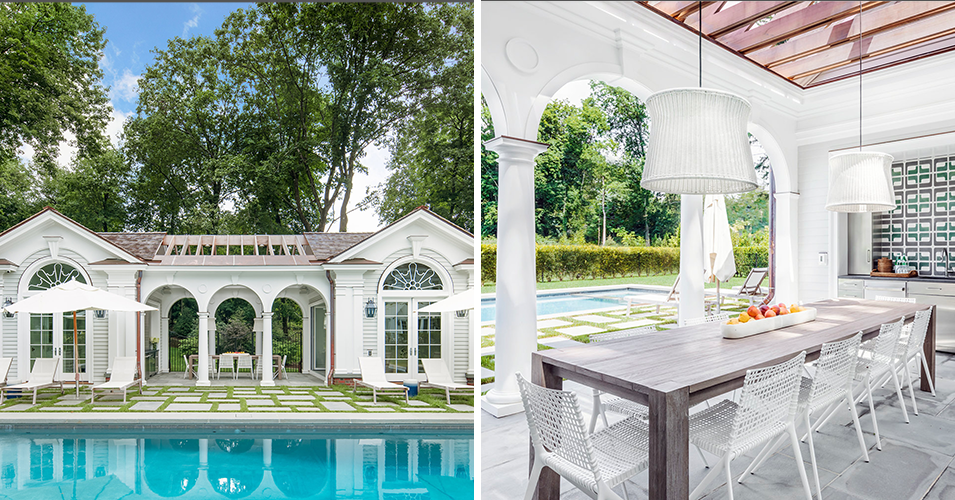 The Greenwich pool house by Alisberg Parker Architects

These pool house ideas create entertaining areas or guest houses for your visitors and give a high-end upgrade to your property. As a tech-lead manufacturer and supplier of inverter pool heat pumps, Fairland is willing to build a 4-season outdoor life for users with intelligent technology innovation, not limited to pool heating solutions. Fairland refines pool products and uses cutting-edge technologies to reshape an energy-efficient, environmentally friendly and pleasant garden complementing outdoor space. Soon, it will benefit every family around the globe.

Stay tuned with Fairland on LinkedIn and Facebook. Get the latest on Fairland's innovation for smart garden solutions.
More recommended articles for you:
Why Pool House Helps You Earn More
How Much Value Does a Pool Add to a House