Energy efficiency can change our life. For pool owners, increasing energy efficiency minimizes the cost of running a swimming pool. That is because the most expensive part of the pool is the pool equipment, and energy is the maximal average expense every year.
One study found that homes with swimming pools used electricity 49% more frequently each year. Even in the winter, it is estimated that a home with a pool uses 33% more energy on average than a home without one. Pool water heating is costly. Hence, getting the smartest, most cutting-edge equipment is necessary to make the pool more energy-efficient.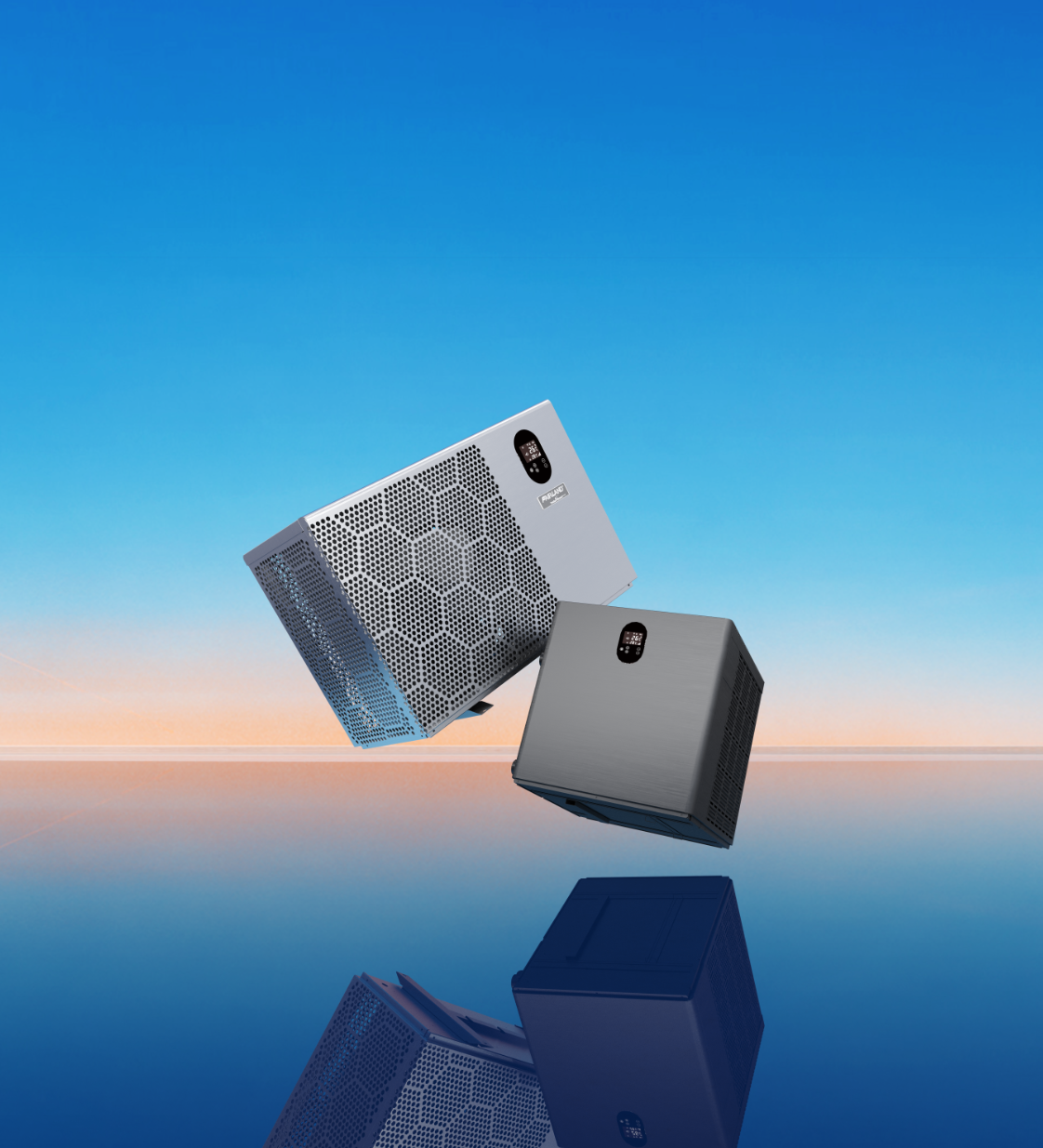 What is the Best Equipment for Pool Heating?
Energy-efficient pool heat pumps are the best option to optimize efficiency. The average range for pool water temperature is 78 degrees Fahrenheit (26 degrees Celsius) to 82 degrees Fahrenheit (28 degrees Celsius). Energy expenses for heating pools typically rise by 10% to 30% for every 1 degree increase in the temperature. However, pool heat pumps use 80% less energy than gas heaters. Heat pumps naturally have substantially lower annual operating costs due to their better efficiency. With proper maintenance, pool heat pumps last longer than gas pool heaters. So you will save more energy and money in the long run.
What Size Heat Pump Do I Need for My Pool?
When selecting a heat pump for your pool, the most crucial factor for consideration is energy efficiency, but also the size of the pool, regional climate, and swimming preference. The right-sized pool heat pump will effectively control the overall run time throughout the swimming season, thus lowering your electricity costs. More importantly, during the colder months when you need the heat pump most, it will shorten the time it takes for the pool to completely warm-up, allowing you more time to enjoy swimming.
4 Key Factors for Sizing a Pool Heat Pump
We have summarized four key factors to make sure you can choose the right pool heat pump for your swimming pool and make the correct investment.
01. Energy Efficiency
Kilowatts (kW) are typically used to measure the heating capacity of a swimming pool heat pump. The amount of the heat pump you need is determined by how many kilowatts the pool uses every hour. The coefficient of performance (COP) is used to assess the energy efficiency of a heat pump. Efficiency increases with a higher COP value. In other words, the higher the COP value, the better energy efficiency.
02. Pool Size
The size of the swimming pool is a significant factor when sizing a pool heat pump, as the amount of water in the pool determines how much power the heat pump needs. The bigger the pool, the more power the heat pump should have. When you are sizing a pool heat pump, you need to know the volume of the swimming pool. Take
Fairland INVERX Vertical inverter pool heat pumps
as an example. When operating in Turbo mode, the following table is the required heat capacity corresponding to the pool volume for your reference:
| | | |
| --- | --- | --- |
| Pool Volume (m3)* | Heating Capacity in Cold Air (15℃) | Heating Capacity in Warm Air (26℃) |
| 20-40 | 7.5kW | 10.5kW |
| 40-60 | 14.5kW | 21.5kW |
| 60-90 | 18kW | 27kW |
| 90-160 | 28.5kW | 40kW |
* The advised pool volume indicated applies under the following conditions: Swimming pool is well covered; the system runs at least 15 hours per day.
03. Regional Climate
The size of a pool heat pump basically depends on the surface area of the pool and the difference between the pool and the average air temperature. Additionally, outdoor temperature, humidity level, and air volume all affect how quickly a heat pump heats the water. So if you live in a warm area with a medium-sized swimming pool, investing in a standard-size swimming pool heat pump will suffice. However, for swimming pools located in areas with higher average wind speeds at the pool surface, lower humidity, and cooler nights, pool heat pumps with larger heating capacity are required. Swimming pools in cold climates, in particular, need the more powerful heating capacity of the pool heat pumps.
04. Swimming Preference
Your swimming preferences do not necessarily affect the size of the heat pump, but they do affect the required heating rate. Thinking bigger is not a bad idea. A more powerful heat pump will heat your pool better and faster. Even if you live in a warm environment, you can buy a heat pump with a larger capacity to suit your continued use of the pool. And you won't regret going too big because the pool heats up faster without running too much.
What Do You Expect from 2 Euros?
Today, low energy consumption is the standard for modern swimming pools. In 2020, the Fédération des Professionnels de la Piscine stated that the swimming pool industry has made huge strides in ensuring environmental protection without compromising personal comfort. Thanks to several innovations, including heating systems, low energy consumption pools are now available to everyone. With the average annual energy consumption for heating dropped from 15,000 kWh in 1980 to 1,570 kWh in 2015, pool heat pumps have become more efficient.
Now think about it: what can you buy for 2 euros? One croissant? Half a bottle of beer? A quarter of a paid book on Kindle? A fifteenth of a theme park ticket? Or a twentieth of a daily gym membership? Maybe all of the above. But have you imagined: what if you could get more by spending 2 euros a day? How about 4-season swimming fun, a 24/7 private workout space, family holidays anytime, or Christmas surprises for the kids?
Fairland INVERX inverter pool heat pump brings unlimited swimming seasons to your pool for €2.00/day!
That's all you get with the INVERX inverter pool heat pump. Empowered by TurboSilence® inverter technology, the INVERX offers unlimited swimming seasons in the pool at 2 euros per day* and saves up to 3 times the energy consumption. The 4-season swimming comes true at the lowest cost and highest energy efficiency. Thanks to the magic of limit-breaking inverter technology, anyone can enjoy swimming in all seasons in a low-energy pool.
*The cost is based on the following condition: A swimming pool of 27.3m³ in Paris, France with an average annual temperature of 13℃, and daily heating from 7:00 am to 10:00 pm. Fairland IXCR46 inverter pool heat pump consumes approximately 10 kWh per day to maintain the desired pool temperature at 28℃.
Final Words
To increase the energy efficiency of the swimming pool, you need access to the best equipment. Heat pumps are designed to provide flexible and reliable heating in all weather conditions. Having an energy-efficient pool does more than creating a monthly minimum energy rate. By switching to energy efficiency, you can do your part in reducing carbon footprints and protecting the environment. If you are seeking an eco-friendly and cost-effective pool heating solution for your pool, contact
Fairland
today by email at
sales@fairland.com.cn
.
For more information on INVERX inverter pool heat pumps, read the following related posts:
· How to Choose a Pool Heat Pump Fit for Your Swimming Pool
· INVERX: Three Ways to Run More Efficiently and Flexibly
· What Kind of Experience is TurboSilence® Inverter Technology
· Who Makes the Best Heat Pump System
· What's the Difference between Inverter Heat Pump and On/Off Heat Pump