Weather can be unpredictable, especially with global warming, and the chances of extreme cold in winter are increasing. As frigid weather approaches, winter pool maintenance is a must. By doing small pool care tasks each week, it can protect your swimming pool from winter damage and save you from time-consuming repair and replacement work when the next pool season rolls around. In this article, China pool heat pump inverter supplier, Fairland will shed some lights on you to winterize your pool.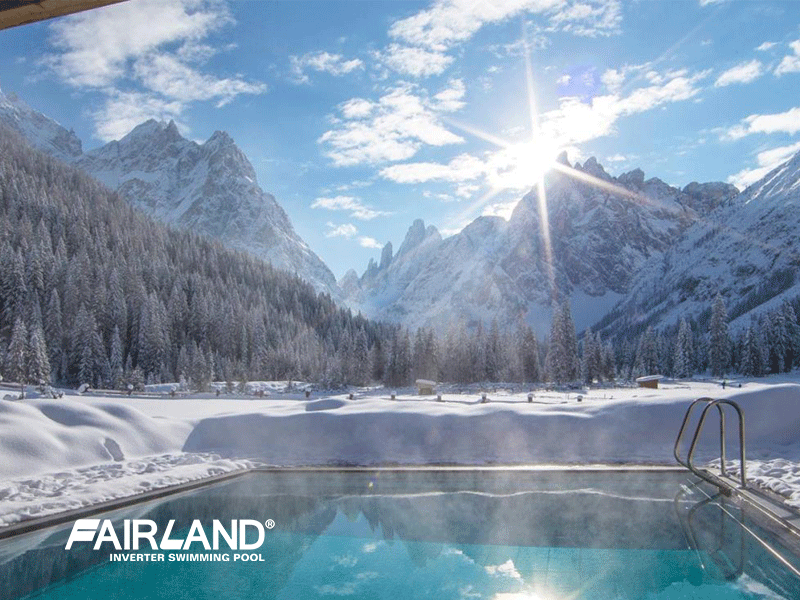 When to winterize your pool? Start early before closing.
Remember to leave ample time for winterizing the pool so you can reopen the pool easily next season with little hassle. The pool season usually ends when the outside temperature consistently falls below 65 degrees Fahrenheit (i.e. 18 degrees Celsius). It is preferable to prepare one week before you close down your swimming pool.
How to winterize your pool? Try to follow 6 easy steps.
Here are some top tips and best practices that will make your pool as safe as possible for the winter.
1. Clean the pool & clean out unwanted debris


Giving the swimming pool a deep clean can prevent algae growth on walls, floors, and other pool surfaces with wireless pool cleaner.

Weekly skimming, vacuuming, and brushing organic debris is a great off-season pool care habit.

Don't forget to empty your skimmer baskets, pump baskets, floor cleaner containers, and cleaner bags.



2. Lower the water level
Winterizing your pool does not mean leaving it empty. The proper pool water level should be 4 to 6 inches below the skimmer in the winter months. However, if you live in a warm environment and don't experience freezing temperatures, your pool water should be nearly filled full in the winter.
3. Balance the water

Consider investing in winterizing chemicals to keep your pool water chemistry balanced. Because chemically balanced water will prevent algae, bacteria, waterlines, and decontamination, to make the opening process easier. Here are some numbers you should keep in mind:

pH level can affect everything from algae growth and corrosion to comfort and cleanliness, as well as the effectiveness of the other chemicals in your swimming pool. An ideal pH is 7.2 and 7.6 parts per million (PPM).
Alkalinity directly affects the pH of your pool. Higher total alkalinity leads to higher pH. The ideal total alkalinity is to be around 100 PPM.
Calcium is always present in pool water. When calcium levels are too high or too low, you may see a range of problems, such as corrosion and scaling. It is ideal to aim for a calcium content of 100-400 PPM.
Chlorine prevents algae, breaks down bacteria, and keeps your pool clean and fresh. Thus, adding a shock treatment to your swimming pool is essential. If you use chlorine to sanitize your pool, that level should be between 1ppm and 3ppm. You could shock the pool a few days before you plan to shut it down. Do it during the daytime or the night before.

And, don't forget to check your pool chemistry every two months when not in use.


4. Drain lines & pool equipment

Draining pool lines is essential to prevent damage to pipes in winter. Most pool equipment, such as pool pumps, filters, swimming pool inverter heat pump, and chlorinated devices, have a drain plug that allows water to drain out. After draining the plumbing, remember to add anti-freeze to the pool system for protection during harsh temperatures.


5. Cover your pool

Install a snug-fitting cover is a necessity to protect your swimming pool from autumn leaves, winter snowfall, and other off-season elements. You can use a hose to remove plant debris, such as leaves and twigs, and a vacuum to remove any excess water.


6. Call the pros

Proper pool maintenance throughout the season can make it easier to winterize a swimming pool yourself. If you have any questions about china pool heat pump, be sure to call your local pool specialist for assistance.

However, winterizing the pool is not the only alternative. Fairland functions as swimming pool heat pump manufacturers with its focus on inverter heat pumps from R&D to sales & marketing.

With Fairland's innovative INVERX Jumbo pool heat pump, you can still enjoy swimming in severe winter. Thanks to the combination of TurboSilence® Inverter technology and EVI technology, INVERX Jumbo can operate at temperatures as low as -25°C but with water outlet temperature maximum to 45°C for spa treatment. If you are interested, please visit https://www.fairland.com.cn/product/ or contact us via email at sales@fairland.com.cn for more details about inverter pool heat pumps.
More Dehumidifier articles for you:
How to Protect Pool Heat Pump in Winter
Fairland Inverter Pool Heat Pump: The End of Pool Winterization
4 Season Swimming Trend Brings Seasonal COP as The New Standard