Regular pool cleaning is necessary to keep your pool hygienic and prevent bacteria and algae growth. It ensures comfortable swimming in clean water and increases pool life. Intelligent pool robots are the best hands for pool cleaning as they can help users clean their pools easily. Globally, the size of the Smart Cleaning and Hygiene Market reached USD 3.8 billion in 2022. The IMARC Group expects it to reach USD 9.08 billion by 2028, with a compound annual growth rate (CAGR) of 15.69% over 2023-2028. Of these applications, the automated pool cleaning category presents significant potential.
Automatic robotic pool cleaners are the most advanced and efficient pool cleaning devices available to precisely navigate and clean pools, shortening cleaning time and saving energy costs. What are the opportunities in the Pool Cleaning Robot Market? How about the global trends in robotic pool cleaners? Let us find out in this article.
What Is A Robotic Pool Cleaner?
The robotic pool cleaner is the next generation of pool vacuum cleaners that perform any pool cleaning task in complete automation. With advanced cleaning technology, the automatic pool cleaner navigates through the pool, avoiding obstacles and performing cleaning tasks precisely and consistently, notably removing contaminants such as algae, dirt, and small debris from the swimming pool. The robotic pool cleaner is a superb tool for cleaning in-ground pools, enabling effective cleaning of larger areas and deeper depths of the pool.
With a growing emphasis on cleanliness and hygiene, consumers and businesses are looking for innovative technologies that can effectively maintain a clean and sanitized environment. Key players in the Global Robotic Pool Cleaner Market are keen on improving product capabilities and efficiency, accelerating new product innovations such as developing AI-enabled cleaning robots.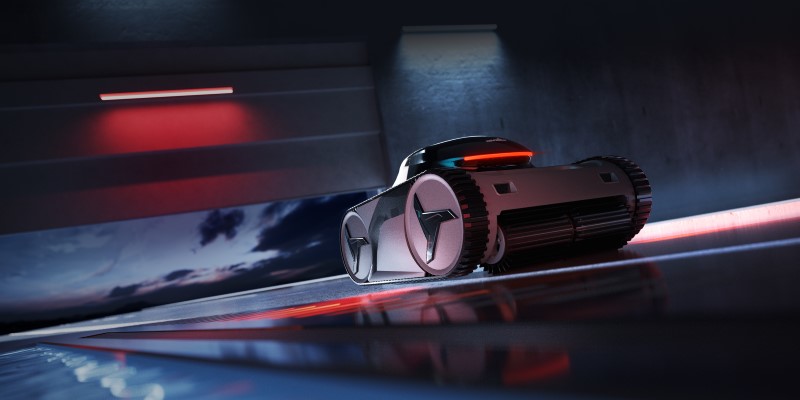 How Big is the Robotic Pool Cleaner Market?
The Global Robotic Pool Cleaner Market was valued at USD 961.3 million in 2022, according to a new market report by BrandEssence® Market Research and Consulting Pvt ltd., which expects it to reach USD 2,420.3 million by 2029, growing at a CAGR of 14.1% over the forecast period. North America and Europe are well-established markets for automatic pool cleaners with high penetration of swimming pools and advanced technology adoption. North America will dominate the Global Pool Cleaning Robot Market, mainly due to increasing urbanization and rising awareness about cleanliness and hygiene in the region. Moreover, the development of high-rise buildings and swimming pools with urbanization is also fueling the market growth in this region. Asia Pacific is emerging as the fastest-growing region for swimming pool cleaning robots globally due to the construction of luxury apartments and rising awareness about cleanliness in the area. Based on a forecast by Xherald, the Global Residential Pool Cleaning Robot Market will reach a CAGR of 16% from 2023 to 2029.
What Are The Growth Prospects And Global Trends In Robotic Pool Cleaning Market?
The comprehensive study reveals that the Global Robotic Pool Cleaner Market has promising growth prospects and prominent global trends, which mainly focus on the following aspects:
Increase In Disposable Income Leads To Rising Demand For Pool Robots
Rising disposable income encourages people to participate more in swimming activities, significantly increasing the demand for pool cleaning equipment and other items required for pool maintenance. As a result, there is a high demand for robotic pool cleaners in residential and commercial applications. Due to their ease of installation, advanced automatic features, and minimal maintenance costs, they will open up new opportunities for the Robotic Pool Cleaner Market in the coming years.
Advancements in Cleaning Technologies and Flexibility of Pool Robots Fuels Market Growth
Robotic pool cleaners operate autonomously without human intervention, require low maintenance costs, and offer high reliability; these benefits are key factors driving the growth of the Global Pool Cleaning Robot Market. Furthermore, advancements in cleaning technologies have enabled pool robots to be more flexible, such as:
The development of Artificial Intelligence (AI) and the Internet of Things (IoT) has provided new avenues for robots to interact and collaborate with humans.
The advancement and evolution of MEMS (micro-electromechanical systems) and sensors, together with enhancements in visualization technologies, have also improved the efficiency and accuracy of robots.
The latest progress in loT and wireless technologies enables users to control the robots using remotes or smartphones. Users can schedule cleaning phases even when they are not at home.
All these improvements and flexibility have acted as a driving force for the market growth of the Cleaning Robot Market. Experts at The Insight Partners believe that integrating Artificial Intelligence (AI) technology with robots can propel the Cleaning Robot Market growth, as they can communicate with the users and further enable automation of the activities performed by the robots. Thus, pool robot manufacturers are engaged in developing AI technology-based robots.
For instance, at the Piscine Global Europe 2022, Fairland demonstrated its revolutionary intelligent robotic pool cleaner – X-Warrior. It is a cordless pool cleaning robot with an AI mode that can perform a sufficient cleaning routine without human presence while optimizing efficiency, convenience, and safety with new integrated intelligent technology. X-Warrior wireless pool robot introduces a first-of-its-kind 3D-S cleaning path with automation of location adjustments, anti-bump, and 90° turning. Combining 1 Gyro+6 Sensors and self-developed algorithms, the X-Warrior wireless pool robot learns its real-time location and direction to recognize the working conditions in practice and plan the most efficient cleaning path. The X-Warrior features ultra-long 10-hour endurance and selectable cleaning cycles, making pool cleaning more thorough, effortless, and stress-free.
Final Words
Overall, increasing awareness of keeping clean, rising disposable income, and growing advancements in pool robotics will drive the growth of the Global Robotic Pool Cleaner Market over the forecast period. Fairland, one of the robotic pool cleaner manufacturers, is focusing on offering pool robots based on artificial intelligence technology and looking to fuel market growth through innovative products. This November, Fairland will showcase X-Warrior, the first cordless pool robot with a 3D-S cleaning path and 10-hour endurance, at Piscina & Wellness Barcelona from 27-30 November 2023. Join Fairland at Hall 2, D72, and discover more about the 10-Hour Pool Robot.
* Source reference and data from IMARC Group, BrandEssence® Market Research and Consulting Pvt ltd., Research and Markets, Xherald, Allied Market Research, Markets and Markets, and The Insight Partners.